Head of Conservation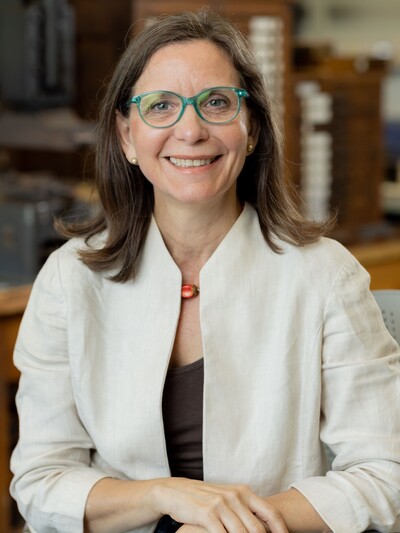 Content and Access
Kinnear Rd, 1165
1165 Kinnear Rd RM 138 Columbus, OH 43212
614-292-9690
estevez.9@osu.edu
estevez.9@osu.edu
Download vCard
Marcela Estevez is the head of conservation at the Ohio State University Libraries. In this role and in partnership with colleagues across the organization, Marcela is responsible for the physical treatment, collection care, and preventive conservation of circulating and non circulating collections in a range of formats, chiefly books and works on paper. In this position she also serves as a resource for the university, Columbus, and Ohio community regarding the appropriate care, handling, and treatment of collections while engaging in a variety of in reach, outreach, training, consultation, and other educational activities.
---
Consultation and Support Areas
Conservation
Preservation
---
---
About Marcela
Originally from Argentina I graduated with an MFA in painting and for many years I taught art at different levels. My strong interest in history of art and cultures combined with my art training lured me into the world of paper and painting conservation. While hired by the National Library of Argentina to perform paper conservation treatments I was introduced to the fields of bookbinding, book conservation, and librarianship opening a new path in my career that extends to these days as the head of conservation for the Ohio State University Libraries.
That path has been full of different jobs, some as a conservator, some as a librarian, and finally a combination of both. As a fellow at the Huntington Library in San Marino, California, I expanded my knowledge on the conservation of rare materials, which facilitated a rapid professional growth. I worked as a conservator for different Harvard University Libraries and when I left Harvard I established my private conservation practice and pursued my library degree. I worked as youth and reference librarian as well as the manager for a university library technical services department but coming back to conservation of library materials was my ultimate goal.
In January of 2016 I joined the conservation unit for the Ohio State University Libraries as a conservation specialist and in February of 2018 I became the head of conservation joining many talented colleagues and reaching that very ultimate goal. As a member of the Preservation and Digitization team I am charged with overseeing all the activities that enable the preservation and conservation of our collections facilitating access to content that supports teaching, research and learning in our university and beyond the physical boundaries of it.
---
Background
M.L.I.S., School of Library and Information Science, University of South Florida
Huntington Library, Getty Fellow for the Conservation of Rare Materials, California
Studio training in painting and paper conservation (Argentina)
M.F.A., Painting, National Institute of the Arts (Argentina)
---
Professional Info Links
---