Asst Rare Books Conservator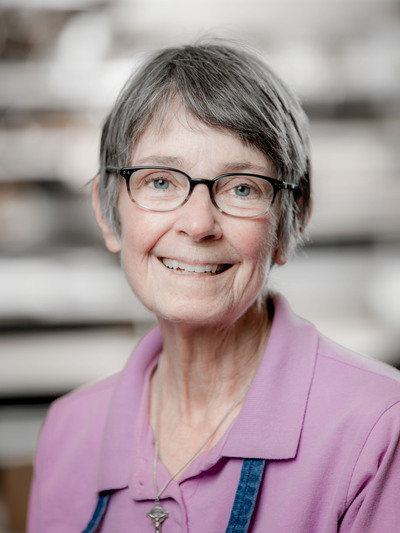 Content and Access
Kinnear Rd, 1165
1165 Kinnear Rd RM 138 Columbus, OH 43212
614-292-0342
carlile.9@osu.edu
carlile.9@osu.edu
Download vCard
Molly Carlile evaluates the condition of each book sent from Special Collection to determine possible treatments options. She consults with the collection managers to choose which of the options would be most compatible and beneficial to their goals – use in teaching, display for an exhibit, preparation for digitization, or availability to a researcher. All treatments are based on sound bookbinding and conservation practices according to the American Institute of Conservation Code of Ethics and Guidelines for Practice.
---
Consultation and Support Areas
Preservation
Conservation
---
Recommended Resources
---
About Molly
I find it extremely satisfying that the books I have repaired will be used for years to come. My work benefits the University by making damaged and worn materials useable now, and  I am also keenly aware that my work has a broader significance in that these rare materials will be handed down to future generations. As our world continues to shrink and communication expands we cannot forget the significance that these cultural treasures may have to those who follow us. I recently met an OSU trauma surgeon. He is nearing retirement now, but when he was a student here, he was unable to find any literature on heart injury, as opposed to heart disease. However, there was one book in OSU's collections, in the Rare Book Library, that was on this subject. We have no idea of the far-reaching significance of our work!
Last year we attended an Ohio Preservation Council (OPC) conference held here in Columbus. The subject matter of the various workshops was interesting, encompassing the larger network of many book workers in this area, from book artists to papyrus experts. It was good to connect with the big picture of efforts and creativity in the field of Conservation.
---
Background
Trade Diploma, North Bennet St. School in Bookbinding and Conservation, 1990
MS in Education, Wheelock College, Boston, 1974
BS in Education, Wheelock College, Boston, 1972
---