The Eberly Family Bible (BS239 1536)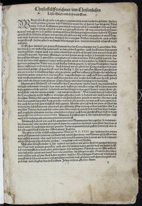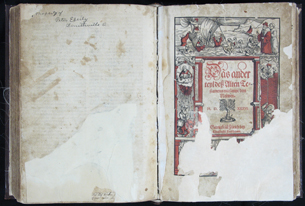 Physical Description
Measurements:
33.5 cm x 23.5 cm x 9.6 cm (10.6 cm with boards); text block 28.3cm 16.6cm
Layout:
Each volume is foliated separately and the register starts at aa after the damaged title page.
Approx 60 lines per page
Blackletter type face with running titles, flourished initials and woodcut initials.
Examples:
first A on folio 1r is a historiated woodcut of Adam and Eve at the Tree with the Serpent also on verso folio CLXXVIII
"V" verso of folio XLVIII duplicated on CLXI and CCVII
"E" verso of folio CXXX

Woodcuts:
Small 6cm x 8.6cm (throughout); examples: folio CCCIII Judith, CCXII Chronicles
Large 13.5cm x 17.6cm (folio 1)
Square 8.5cm (frequent in second section) examples: verso of CXXXIX Matthew
Page repair:
Opaque paper used for edge repair and large spaces of damage
Semi-transparent backing (Japanese paper) has been used in some cases to back an entire page without losing text. This material exhibits fraying fibers visible at fore edge. examples: folio VII
Japanese paper used to repair tears. Examples: folio CLVII ; folio CCXI
Opaque repair of tears. Examples: folio CLXIX
There is the most repair (and significant damage) to folios at the beginning and end.
First folio after the genealogy pages is folio III, scrap of another folio( with frayed backing) is visible in the gutter.
Condition:
Occasional foxing
Page edging is browning – was it colored speckled and is now fading?
Title page Das Ander … to second volume in red and black with heavy damage and opaque paper repair. Catalog notes it is specifically missing the scene of Christ being led away from judgment
Five folios of ms genealogy of Eberly notes added after the damaged title page, some of these also damaged Property of Peter Eberly Smithville O. on verso of folio CCCXLI(first section)
Description prepared by Isabelle Bateson-Brown
The Notes on the Eberly Family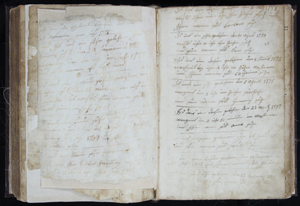 The Rare Books and Manuscripts Library receives numerous requests from genealogical researchers for additional information about this bible. The scans below document all of the hand-written notes. In order to provide optimal legibility the pages were scanned with 600 ppi resolution and standardized to a width of 3000 pixels, which will require scrolling, but we hope it will be worth the effort!



Please click on these links to access the pages one at a time.

Eberly Family Bible scan 1
Eberly Family Bible scan 2 Eberly Family Bible scan 3
Eberly Family Bible scan 4 Eberly Family Bible scan 5
Eberly Family Bible scan 6 Eberly Family Bible scan 7
Eberly Family Bible scan 8 Eberly Family Bible scan 9
Eberly Family Bible scan 10 Eberly Family Bible scan 11