The Scott Helmes Collection
A Guide and Inventory
SPEC.CMS.130
Compiled by
Scott Williams, John M. Bennett,
and Katie Brennan
May 2007

The Avant Writing Collection
The Rare Books & Manuscripts Library
The Ohio State University Libraries

PREFACE
Scott Helmes (Fort Snelling, Minnesota, October 27, 1945) is a widely recognized visual poet. Since the early 1970's, he has published his work in the US and internationally in small press and other journals and anthologies, in artists' books and fine press books, as broadsides and posters, and in some two dozen books and chapbooks. He has also exhibited his work in galleries in the United States and around the world, as well as read and performed his poetry and visual poetry. Since 2001 those performances have often been with the sound poetry performance ensemble The Be Blank Consort. Helmes' uniquely recognizable style makes use of rubber stamps, ink, drawing, collage, and other media.
Helmes has lived most of his life in Minneapolis-St. Paul, where he is a respected professional architect. He has been an important promoter of visual poetry in North America and is generally regarded as a major figure in the field, both here and around the world. His teaching and promotion activities have included positions with the Minneapolis Institute of Arts, The Minnesota Center for Book Arts, The Minnesota Historical Society, and others. He has also been active as a mail artist, as is the case with many of the world's visual poets. In addition, he has compiled one of the world's most extensive and varied collections of antique rubber stamp alphabet sets, and has made use of these stamps in much of his work.
This collection includes his original poems and visual poems; many of his publications as well as other publications in the fields of poetry, visual poetry, literature, and related fields; mail art documentation; exhibition catalogs; notebooks and manuscript materials; correspondence received; and other materials. The period covered is roughly 1972-1999.
Further materials by Scott Helmes may be found by searching the Library's on-line catalog, and by searching the finding aids to some of the other collections in the Avant Writing Collection.
John M. Bennett, PhD
May 2007
---
Key to Genres and Abbreviations:
mg=magazines and serials
bk=books and monographs
cr=correspondence and mailart
bc=book catalogs
ex=exhibit materials (posters, lists, catalogs, etc.)
ms=manuscripts (ms=handwritten manuscript; ts=typescript manuscript; cc=carbon copy manuscript; pc=photocopy manuscript; holographic manuscript=handwritten manuscript)
pr=printed matter not elsewhere classified
mixed=towards end of project (starting with folder #412) many items were sometimes assigned to one file folder, hence, the "mixed" designation


---
Images:

© 1976
(see box 1 folder 3)

© 1977
(see box 51 folder 474)

© 1977
(see box 51 folder 475)

© 1987
(see box 38 folder 428)

"Ra Ar" © 2003
(by SH & JM Bennett)

© 1977
(see box 38 folder 427)

© 2003
(from VI Visual Poems)

© 1998
(from Poemes (Zehn) Visibles)

© 1971
(see box 47 folder 458)

© 1977
(see box 38 folder 427)

© 1978
(see box 25 folder 272)

© 1992
(see box 38 folder 429)
---
THE SCOTT HELMES COLLECTION
Box 1
Folder Numbers 1-6
Helmes, Scott. Cover letter to shipment box 1. 12/2/2002. 3 sheets. 2 copies of exhibit flyer. ms



Helmes, Scott.

Poems.

Note states: "Some poems from the 1970s." All 24 original visual poems matted; part of a one person show at Southwest State University, Marshall, MN. ms



Helmes, Scott.

"Ambiguous"

("Perma-Notes" brand blank book with original sketches/ideas for word art/visual poetry throughout). ms



Helmes, Scott; Kostelanetz, Richard; Cole, David (Compilers).

Tenth assembling.

A collection of otherwise unpublished manuscripts. N.l.?: n.p.?, 1980. mg




Am Here Forum.

Issues # 5, 6, 7, 8. In (4 issues) 8x11 envelopes. mg




Breaking the bindings: American book art now.

An exhibition of creative bookmaking produced in the United States since 1980. Elvehjem museum of art: 6 May – 3 July1983. [Madison, WI] : The Regents of the University of Wisconsin System, 1983. bk



back to key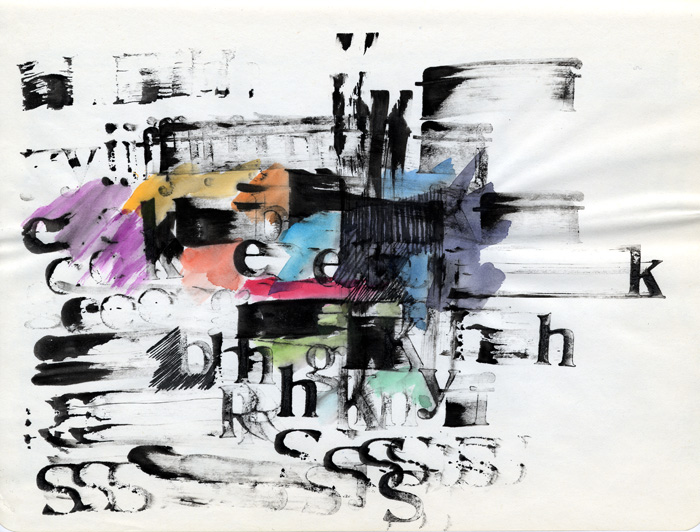 ---
Box 2
Folder Numbers 7-13
Catalogs from Whittington Press; Granary Books catalog – Luminous volumes; Printed Matter 1986; Granary Books 1987; Printed Matter (theme: books by artists); Art Metropole. No. 12; Rampart Lion Press. bc



Catalogs in separate envelopes of publications from "edition hansjorg mayer", 1978-1987 (6 items). bc




La Vie des Lettres.

French art from the Sackner Archive. Bass Museum of Art Exhibition, Miami Beach, Florida, 1987. bk




Interstate.

Issues # 17, 1986; 19, 1987. British anthology issues mg




Sigma(greek letter?)—revue internationale pour la poesie experimentale.

Tokyo. Numero 17. novembre 2002. Includes work by SH. mg




Lake Street Review.

No. 7. Summer 1979. Includes work by SH. mg



60 letters, flyers, postcards and packets of word art and mail art correspondence from around the world. Ca. 1980s. Includes correspondence from Marilyn R. Rosenberg, Richard Kostelanetz, Musicmaster, Ryosuke Cohen, Joel Lipman, Wordless, Vittore Baroni, Ulises Carrion, Miekal And, G. Galantai, Jurgen O. Olbrich, Marvin Sackner, and others. Includes some letters from editors. cr



back to key
---
Box 3
Folder Numbers 14-20
Sackner archive of concrete & visual poetry.

Feb 1980. June 1980. And No date. In (3) 9x12 envelopes. Lists of holdings. pr




Sackner (Russian) archive of concrete & visual poetry

No date. "Archive of Russian avant-garde, futurist, dada books and related material." In 9x12 envelope. pr



Helmes, Scott. Cover letter to shipment box 2. 12/12/02. 2 sheets. ms



Helmes, Scott.

"Visual Rubber Stamp Poems"

. San Francisco: Stampart Gallery, 1993. Plastic spiral bound. bk




The Lake Street Review

Winter 1978, No. 4. Summer 1985, No. 19. Both include work by SH. mg




Xero Post.

(no date; ca. 1981), includes work by SH.

Bambu

. No. 3. (no date).

Prop

. No. 5 Fall 1980. mg



7 envelopes. 1 has pc copies of SH's visual poems, ca. 1977. The others are correspondence from Ernest Robson, Judy Kleinberg, Arturo Giuseppe Fallico II, Lon Spiegelman, Walker Art Center, and Jacques Juin – ca. 1977-1983. cr



back to key
---
Box 4
Folder Numbers 21-22
Large collection of loose-leaf correspondence and misc. sheets. Some paperclipped together with their envelopes. From around the world—many from editors of poetry serials, many for mail art projects and exhibits. Includes material from Bill Gaglione, Karl Kempton, Marvin Sackner, Tom Ahern, Tom Person, Jacques Juin, Charles Russell, Charlton Burch, Loris Essary, Dan [Raphael], David [Cole], John M. Bennett, Lon [Spiegelman], Richard Kostelanetz, Richard Mathews, Walter Zanini, Whitson, Michael Gibbs, Bob Heman, Harley Lond, William Fox, and many others. Also includes pc copies of some of SH's visual poems. Approx. 400 sheets. Ca. 1975-1985. cr



31 envelopes of correspondence, art and mail art documentation, printed matter, letters, and other material, approx. 6x10, from around the world. Includes material from Emilio Morandi, Sue Fishbein, Niels Lomholt, Bradley Lastname, Andrzej Partum, Peppe Rosemilia, John M. Bennett, Teresinka Pereira, Jurgen O. Olbrich, A. de Araujo, Karl Kempton, Vittore Baroni, Ulises Carrion [Other Books And So], Pawel Petasz [includes book by Petasz, Imitations], and others. Ca. 1980-1981. cr



back to key
---
Box 5
Folder Numbers 23-25
106 envelopes of correspondence, regular size, from around the world. Subjects include mail art, small press, visual poetry, and other matters. Includes material from Tom Person, Marvin Sackner, Michael Duquette, Jurgen O. Olbrich, A. de Araujo, Guy Schraenen, Leonhard F. Duch, Cesar Espinosa, Bill Ray, Betty Danon, Alex Igloo, Miroljub Todorovic, David Cole, Smegma, Jerry Dreva, Mark Bloch, Charles Russell, Lon Spiegelman, [Joel Lipman (Toledo)], Vittore Baroni, Niels Lomholt, Dan [Raphael], Sue Fishbein, B. C. Keech, St. Scarlatina, Ryosuke Cohen, Lyn Hejinian, Paula Claire, Loris Essary, Musicmaster, John M. Bennett, Mohammed, and many others. Ca. late 1970s and early 1980s. cr



56 envelopes of correspondence, small size, from around the world. Subjects include mail art, visual poetry, and related matters. Includes material from Samuel Feijoo, Jacques Juin, Sue Fishbein, Betty Danon, Jurgen O. Olbrich, "Albert Einstein", Llys Dana, M. L. Vachey, Birger Jesch, Vittore Baroni, Peter Heiss, Bruno Chiarlone, Paula Clair, Roberto Wilson, and many others. Ca. early 1980s. cr



139 postcards from around the world, many of them mail art. Includes cards from Betty Danon, Richard C, Bill Whorrall, Richard Kostelanetz, Carlo Pittore, Musicmaster, Mario Lara, Karl [Kempton], Soft Art Press, Sue Fishbein, Steven Durland, Pat Fish, Dick Higgins, A. de Araujo, Pawel Petasz, Mark Bloch, [Bill] Gaglione, Inex, Scarlatina Lust, Bill Ray, David [Cole], Leonhard F. Duch, R. Saunders, K. S. Ernst, Arturo Giuseppe Fallico, Lon Spiegelman, Madam X, and many others.Ca. early 1980s. cr



back to key
---
Box 6
Folder Numbers 26-36
Cover letter to shipment box 3. cr




NovyZivot mesacnik pre literaturu a kulturu

. 3-4. Marec – april 1991. Rocnik 43. On cover: "Preserve this artwork during the art strike 1990-1993". Yugoslavia, in 7x7 envelope. mg




"1.° Festival Internacional de Poesia Viva"

. Figueira da Foz, Portugal: Museu Municipal Dr. Santos Rocha, 1987. 226 pages (+). Extensive illustrated catalog with essays. Includes work by SH. ex




"I International Exhibition of Visual Poetry of Sao Paulo

. 30.6 A 14.8 De 1988." Sao Paulo, Brazil: Centro Cultural Sao Paulo, 1988. 174 pages. Includes inserted program. Organized by Philadelpho Menezes. Extensive illustrated catalog with essays. Includes work by SH. In 5 1/2x8 1/2 envelope. ex




Eleven

. Poems by Adams, Bita, Helmes, Keen, Marasco, Maydak, Ormsby, Shannon, Weber." Jean, Denis-Jacques (Editor) .Hempstead, NY: (the editor), Summer 1987. 3x4 booklet. 2 copies. mg



Helmes, Scott.

Zoom Poems: Adventures Among the Hyperchips

. N.l.: n.p., July 1992. Plastic comb bound 8 1/2x11. Signed. 1 of 20 and 2 of 20. Unpaginated. (2 copies). bk




Rubber Stamp Madness

. V. 10, no. 48, 1989. v. 11, no. 53, 1990. (2 copies) No. 53 includes an article on Art Naphro, and an article by SH on teacher's alphabet stamp sets. mg




Editing Becket

. N.l.: Walker Art Center/Minnesota Center for the Book Arts, 1988. (No editor). Introduction by Scott Helmes. Includes work by many visual poets and mail artists. Plastic comb bound 8 1/2x11. Unpaginated. bk




New North Artscape

. Vol. 1., No. 4. 1989. (2 copies). Art tabloid covering Minneapolis area. mg




Shi Shi

. Nos. 20, 22, 25, 27, 27, 28, 29. 1987-1992. Seven issues in 9x7 envelopes from Japan – Shishi Group, Tokyo. Japanese visual poetry journal, with many international contributors, including SH. mg




Anti Isolation

. No. 2 (1985?). Vol. 3, No. 4 Spring 1987. Madison, WI: Xerox Sutra Editions/Xeroxial Editions. No. 2 includes work by SH. mg



back to key
---
Box 7
Folder Numbers 37-40
13 envelopes of mail art events and correspondence, small & regular size, from around the world. Ca. mid 1980s to mid 1990s. Includes material from Gyorgy Galantai, Pete Spence, Emilio Morandi, Nicola Frangione, Bill Keith, and others. cr



9 envelopes of mail art events and correspondence, 6x10, from around the world. Ca. early 1990s. Mostly mail art exhibition documentation, including listings of SH. cr




Spagnuolo, Antonio. Infibul/azione

. Alatri, Italy: Hetea, 1988. 51 pp. Book of poems. ISSN 0394-3496. In 4x6 envelope. Cover art by SH. bk




In the Mail

. Feb. 1992 and "Prehistoric Life Magazine" June-July 800 A.D. Wordless Press. (2 issues). Both issues include work by SH. mg



back to key
---
Box 8
Folder Numbers 41-64
Mail/Moz-Art

. II Muestra Internacional of Mail-Art Ciudade Alcorcon. Madrid, Spain. 1992. In 6x8 envelope. Includes illustrations of some of theworks. SH listed as a participant. ex




100 Anos Mir

o. III Muestra Internacional de Mail Art Ciudad de Alcorcon. Madrid, Spain. 1994. In 6x8 envelope. Includes illustrations of some of the works. SH listed as a participant. ex




Disturbed Guillotine.

72 pp. Postmark: 9-20-94 Mpls, MN. In 5 1/2x8 1/2 envelope. Includes work by SH. mg




Picture Dictionary

. International Mail Art Show. Mpls, MN: U of MN, Studio Arts Dept. 1989. In 5 1/2x8 1/2 envelope. SH listed as a participant. ex




Lo Straniero

. (The Stranger) 1992. Vol. 7; No. 14. Italy. SH listed in directory. mg



O. No. 33, July 1988; no. 43, October 1991. In 5 1/2x8 1/2 envelopes from Japan. (2 issues). No. 43 includes work by SH. mg




Mail Art Shows

. Kent, Washington. 3rd and 4th international mail art exhibits. Two mailings from Kent Arts Commission, Kent WA dated 1988 and 1989 in (2) 4x6 envelopes. SH listed as a participant. ex




MCBA

. (Minnesota Center for the Book Arts). Vol 3, No. 4 and Vol. 4, No. 1. 1988 (2 issues). Includes an article on SH who was giving a workshop on mail art and rubber tamp art. mg




Commonpress

42a. Mail Art. The Locals Show Canada. Includes letter to SH from Mike Duquette. 1991 Postal Art Show. In 9x12 envelope from Canada. SH listed as a participant. ex




Clown War

. 1992. Issue #35. 2 copies. Includes work by SH, A. F. Caldeiro, Bob Heman, Richard Mathews, David Cole, Dick Higgins, and Hannah Wiener. mg




International Exhibition of Visual Poetics

. Exhibit. Brazil. "Prefeitura Municipal de Americana, Brazil. 1991. In 9x6 envelope. SH listed as a participant. ex




Because

. Vol. 1, No. 1. Excellent Center for Art and Culture; Grover Beach, CA. 1993. Newsprint flyer on programs & events re a mail art show on nuclear blast shadows. SH listed as a participant. mg




Myth America

. International Correspondence. Art Exhibit. 1991. Vermillion, SD: University Art Galleries, Univ. of SD. SH listed as a participant. ex




Score

. Various inserts: Fish Wrap. Vol. 1, No. 1, No Date. "Options" by Sha(u)nt Basmajian. sCoReView #33. sCore Sheets #48, 50 & 51 (7 copies of 51; has Scott Helmes poem). From SCORE, Oakland, CA. In 9x12 envelope dated 1991. mg




Just Say No To War

. Philo, CA: Am Here Books, 1991. Loose-leaf, approximately 100 photocopy two-sided sheets. In 9x11 envelope. Includes 2 poems by SH, "The Coming", and "Upon Seeing Matthew Brady's Photographs". bk




The Beauty in Breathing

. Selections from The Ruth and Marvin Sackner Archive of Concrete and Visual Poetry. Miami, FL: The Sackner Archive, 1992. 47 pp. Includes letter to Scott from Marvin Sackner. In 9x11 envelope. Includes a work by SH. ex




Mercer Gallery

. Monroe Community College. SUNY. Mail Art Documentation 1992. Exhibit. Rochester, NY 1992. In 9x12 envelope dated 1992. SH listed as a participant. ex




Atticus Review

. No. 15, Winter 1987. Calexico, CA. In 9x11 envelope dated 1988. Includes 2 visual poems by SH. mg




New Pages in Book Arts

. Pine Tree Gallery, Ironwood, MI. Includes 2 letters to Scott, poster, photos of SH's work, exhibit materials. In 9x11 envelope dated 1991. ex




Stamp Art Gallery

. SF, CA. 93/94 exhibition schedule poster (2 copies). Flyer announcing lecture by SH (4 copies). In 2 9x12 envelopes dated 1992 and 1993. ex




Arte Postale 57

. [The Box Game] Forte del Marmi, Italy: Near the Edge Editions, 1988. Copy 292 of 500. 27 pp. Comes with post card: "Final Report of the Trax Project". In 5 1/2x8 1/2 envelope from Italy dated 1988. SH listed as a participant. bk




Laughing Bear Press Newsletter

. #36, 1991. In envelope. SH mentioned in a review of Kaldon. bc




MCBA Show

. 1989 Faculty Exhibit of the Minnesota Center for Book Arts, (3) 3x5 card announcements. Minnesota Center for the Book Arts. 1990 5th Anniversary & Auction. Walker Art Center, Mpls, MN, June 1988, calendar of events (2 copies). SH included in exhibition. pr




Anterem

. Rivista di Ricerca Letteraria. 1987 Vol. 12, #35; 1988 Vol.13, #36. In 5 1/2x8 1/2 envelopes from Italy. (2 issues). mg



back to key
---
Box 9
Folder Numbers 65-81
iy Symposion

. "Déjà vu. Westeast". Tarsadalom Muveszet Kultura. 1987/7-8. (ISSN: 0503-0935). Novi Sad, Yugoslavia. In 9x11 envelope dated 1987. Includes a collage by SH. mg




Mailed Art

. Uppsala Sweden Mail Art Exhibit poster. In 9x11 envelope. SH listed as a participant. ex




Networker Post

. Museum of Artpool. Artistamp Stamp-Sheets by the Network. For the Network. Artpool Archive. Budapest, Hungary: Artpool-Galantai, 1994. Aproximately 200 loose bound sheets printed on one side. Wrapped in cardboard with titled covers. No. 14 of 100. In 10x13 envelope. Includes 100 stampsheets by 100 artists, including SH. bk




Kaldron

. 21/22. "Selections from Visualog 3. 1990." (3 copies). Includes a visual poem by SH. mg




1…2…3 Dimensionen/Dimensions

. Mail Art Projekt. (Art Nurnberg 6). Nurnberg, Germany: Forum for Modern Art. June 20-23, 1991. 32 pp. Comes with poster and post card. In 9x11 envelope mailed from Wiesbaden. SH listed as a participant. bk




Time 88

. Mail Art Project. Bergamo, Italy: Artestudio, 1988. Not paginated. In 8x14 envelope dated 1988, Comune di Ponte Nossa. SH listed as a participant. bk




I Sassi del Finalese

. 1991 International Postal Art show poster and list of participants. In 9x11 envelope dated 1991, Comune di Finale Ligure. SH listed as a participant. ex




Within The Turning

. Cole, David (Editor). Brooklyn, NY: [the author], 1990. No pagination. 1989 word art collaborative show published by D. Cole. In Brooklyn NY 9x12 envelope. Includes work by SH, K. S. Ernst, Betty Danon, Marilyn R. Rosenberg, David Cole, and others. bk




Co-Lingua

. (a continuation of NRG Magazine). 3 different issues (no volume, issue or date markings). Mailed from Portland, OR with 1992 postmark. Includes work by SH and many other avant garde and visual poets. mg




Artpool's Ray Johnson Space

. Exhibit poster and invitation card. Galantai/Artpool 1989 show poster. In 10x12 envelope from Budapest Hungary. SH listed as a participant. ex



Archive of Experimental and Marginal Art/ Galerie St. Petri. (16) different posters of experimental art shows, mostly from early and mid 1970s. (1) Humanistic Perspectives in Contemporary Art. No. 9. 1978. (1) Newsprint item titled "Neon de Syro"(?) Abril 1978 (spoof on tourism in Majorca). In 10x14 envelope postmarked 6.18.80 Malmo, Sweden. Includes posters for shows by Genesis P. Orridge, Klaus Groh, and others. ex



Szombathy, Ba'lint. Contains 2 items: 1) Khbnmebha pey No. 121. 25 anpna, 1979 (newsprint). "Ante Vukov Projekt 'Linije'" –a 5x20 stapled word art publication dated March 1975. In 9x12 cardboard envelope from Yugoslavia dated 5.21.1979. ex




Kontextsound

. Edited by Michael Gibbs. Amsterdam: Kontexts Publications, 1977. Edition of 1000 copies. Published on the occasion of the "tekst in geluid" (text in sound) festival, Stedelijk Museum. Includes article by/about Henri Chopin, Dom Sylvester Houedard, Bernard Heidsieck, Bob Cobbing, Arrigo Lora-Totino, Sten Hanson, and others. ex




International Network for Aesthetix Therapy in Art Systems

. Anonymous. [Loose leaf 8x14 pc art (cover being Nixon's resignation letter)]. In 9x14 envelope from Denver, CO. No Date; ca. 1979. pr




Score

. No. 7. San Francisco: Score, 1986. Includes: (1) "Score Broadsides" (8x11 sheet) and (1) "Score publications" . In 9x12 envelope dated 3.13.1986. Mostly visual poetry; includes work by Crag Hill (the editor), John M. Bennett, Bob Grumman, Greg Evason, Theo Green, K. S. Ernst, Karl Kempton, Gary Barwin, and others.mg, bc




Dialogi

. Revija za kulturo v vseh odlikah. Letnik. XXI. 9. 1985. "Kunst wird zur ideellen gewalt wenn sie die massen ergreift. Westeast-political". In 6x12 envelope from Maribor Yugoslavia. Includes poetry, visual poetry, collage, articles. mg




Sphinx

. No. 7/8. 1979. Includes: Supplement, note to Scott Helmes, catalog, and (edible?) postcard beginning to crumble sealed in plastic. In 8x9 envelope from Beaugency, France dated 1.18.1980. Edited by Llys Dana. Includes work by Dick Higgins, Jackson Mac Low, George Brett, Yoko Ono, La Monte Young, Claude Pelieu, Julien Blaine, Opal Nations, and others. mg



back to key
---
Box 10
Folder Numbers 82-88
Helmes, Scott. Cover letter to shipment box 4. 12/15/2002. ms




O

. Numbers 24, 25, 27-29, 31, 32, 34-39, 41, 42, 44, 44, 45. 1985-1992. In 5 1/2x8 1/2 envelopes from Japan. (18 issues). Important Japanese poetry and visual poetry journal, including work in Japanese and other languages. mg




Shi Shi News

. Nos. 16, 19, 21, 23, 24, 30. 1986-1992. In 6x8 envelopes from Japan. (6 issues). Japanese and international visual poetry journal. mg




Beyond Baroque

. #s 784, 791, 792. December 1978. Early Spring 1979. Early Summer 1979. Newsprint. (3 issues). Small press literary journal. mg




Invisible City

. March 1979. Nos. 23-25. Newsprint. Includes work by Julien Blaine, Paul Vangelisti, and others. mg




Intermedia Magazine

. Vol. 2, No. 1 (#5) (San Francisco) "Entropy". 1978. Newsprint. Edited by Harley W. Lond. mg




Ear Magazine

. ¾, 3/7, 3/8-9, 4/3, 4/7, 4/8-9, 5/1, 5/2, 6/3, 7/1. 1977-1979. Newsprint. (10 issues). San Francisco newsletter re poetry, music, sound art, etc. mg



back to key
---
Box 11
Folder Numbers 89-108
Kaldron

. No. 4, August 1977. No. 5, 1977. No. 7, Fall 1978. Newsprint. Edited by Karl Kempton. (3 issues). Poetry by Will Inman and others. mg




Venerations

. Poems by Michael Hannon. Typoglifs by Karl Kempton. Kaldron, 1980. (newsprint). pr




American Poetry Review

. Jan 1977. Newsprint. (2 copies). Includes visual poems by Richard Kostelanetz. mg




The American Book Review

. 1/5 1978. Newsprint. mg




Intermedia

. Special Literary Issue. Vol. 1, No. 4. Winter/Spring 1976. LA, CA. Includes many clippings of abstract word art and comics (about 20 items) and large yellow poster "Modulations" by Richard Kostelanetz dated 1975. Edited by Harley W. Lond; extensive compilation of poetry, visual poetry, and articles. mg, pr




Numbers: Poems & Stories

. Kostelanetz, Richard. New York, NY: [the author], Nov. 14, 1974. Newsprint. bk




Art Communication

Edition 9. 1977. Toronto. Newsprint. Ca. 1978. Includes articles by Alan Sondheim, Harley W. Lond, and others. mg




West Coast Poetry Review

. Catalog of books and magazines. Stapled 8 1/2x11. Ca. 1979. bc



Luigetti, Serse. Collection of postcards (5) and ephemera (loose sheets of art). In 6x8 envelope from Perugia, Italy dated 10.13.1983. This is an issue of Luigetti's serial Paper. pr



Spiegelman, Lon. LA, CA. [art composition]. Signed 4 of 6. With letter to Scott on back. In 8x11 red cardboard protectors. 1978. ms




Ephemera

. No. 10. In 5 1/2x8 1/2 envelope from The Netherlands. 1979. Includes thank you note from Ulises Carrion. mg




L=A=N=G=U=A=G=E

. No. 5. October 1978. New York, NY. mg




NRG

. No. 4, no date. No. 5, 1977. No. 7, no date. No. 24, no date. Newsprint. 4 issues. Edited by Dan Raphael. Includes much poetry and visual poetry. mg




Freedom, Cannibalism, Creative Love and the Value of Cosmic Nonsense

. By Ernest Robson. N.l.: [the author], 1986. 5 1/2x8 1/2 plastic spiral bound. Cover's title loose. Comes with letter and reviews. bk




No Boy

. By John Bennett. S.l.: [Laughing Bear Press], 1985. Includes catalog No. 11, Luna Bisonte Prods; two poems dated 1986, misc inserts and note to Scott Helmes. In 5 1/2x8 1/2 envelope. bk, bc, pr




Graphitismes 1 bis

. Edited by Jean-Marc Rastorfer. Lausanne, Switzerland: Boucherie des art tristes, 1986. 22 pp. Collection of handwriting styles in different languages, some of it probably asemic. In 5 1/2x8 1/2 envelope. bk




Nit & Wit. A Literary Arts Magazine

. Vol.1, no. 3. 1978. (5 1/2x8 1/2) Chicago. mg




Imps. The Impossibilists

. #22. Aug. 1986. 22 pp. 5 1/2x8 1/2. Edited by Musicmaster. mg




Prop

. Literary Issue. May 1980. Includes work by Guy R. Beining, John M. Bennett, and others. mg




Flat Beer Project

. By Whitson. Billings, MT: Western Dakota Junk Company. 1977. Contains letter and one flattened beer can. cr



back to key
---
Box 12
Folder Numbers 109-119
Ulises Carrion. Postcard note to Scott Helmes dated 1979. Includes: Ephemera No. 7 by Ulises Carrion (Amsterdam) and one poster: Nervo Optico. No. 10, Mar-Abr 1978; and two copy-art posters. In 9x12 envelope. cr, mg, pr



Jerry Dreva. 3 items. 1) 8x11 photo art work signed 2/14/79. In 10x13 envelope from Milwaukee, WI. 2) calendar and announcement in 9x11 envelope from Los Angeles dated 1980. 3) (2) 8x11 photocopy art compositions in business-size envelope from Milwaukee, WI date 1979. cr



Exchangeable Photo. No author. Odder, Denmark: Lomholt Formular Press, no date. Thumb tab bound 9x11 publication. Mr. Klein. By Tom Elling and Lomholt Formular Press.10-24 January 1979, Lund Sweden. Odder, Denmark: Lomholt Formular Press. Thumb tab bound 9x11 exhibit catalog. In 10x12 envelope. bk, ex



Sydney's Concealment. Sydney Concealed. Vol. II. Odder, Denmark: Lomholt Formular Press, no date. In staple-bound 9x11 binding with letter on back to Scott Helmes. Also includes: 1) North Information. No. 13. 1977. And 2) Deixa-me apresentar o mr. Klein. In blank 10x12 envelope from Lomholt Formular Press, Odder, Denmark, ca. 1977 (mailer's original address cover removed inside envelope). bk, mg




Local Drizzle

. Vol. 1, no. 3, Oct-Nov 1978. Vol. 1, no. 4, Jan-Mar 1979. Carnation WA. In 9x12 envelope. (2 issues) Newsprint. mg




Bile

. 9 issues: 1) "-11 of 200" 1979, in 9x12 envelope. 2) "162 of 200" 1978, in 9x12 envelope. 3) three issues: "78/200", "207/200", and "107/200", all 1978, in 9x12 envelope. 4) "? of 200" 1980, in 9x12 envelope. 5) "179 of 200" 1979, in 9x12 envelope. 6) two issues: "185 of 200" and 104 of 200, 1979, in 9x12 envelope. All envelopes postmarked Chicago, IL. Edited by Bradley Lastname. mg




Rubber

. 3 issues: Nos. 10, 11 and 12, 1979 (with inserts). Also: Letter to Scott Helmes from Aart van Barneveld of Stempelplaats, Amsterdam, January 1979. Also: 6 postcards of stamp art. In 7x9 envelope, Amsterdam. mg, cr, ex




It still doesn't matter

. Three issues: 1) #8, no date, in 4x6 envelope, Minneapolis, 1987. 2) #3, no date, in 9x11 envelope, Minneapolis, 1986. #10, no date, Bill Shields, Edina, MN. Includes work by Al Ackerman, John M. Bennett, Jake Berry, Musicmaster, Greg Evason, and others. mg




Nomoma

. Catalog Vol. 1, No. 1, Sept 1978 (catalog of rubber stamps by museum). Various inserts: 1980 calendar booklet titled "Exciting new developments in Clone Care. 5 sheets/letters by Steven Durland. In 9x11 envelope from Northampton Museum of Modern Art, Amherst, MA, 1980. bc, br



Lon Spiegelman. Three mailings. 1) Artistic letter to SH in 4x6 envelope dated 1979. 2) Work of word art: a pressed board of word art spelling out Scott Helmes' name in manner similar to Helmes' style of poetry with note to SH on backside which has additional stamp art in 6x8 envelope dated 1980. 3) Folded work of art with letter written on it by Lon to Scott dated 5-10-79 in 9x11 envelope dated 1979. All envelopes from Los Angeles, CA. cr




Berry College

. Poster of exhibit for Joanne Seltzer and Tommy Mew. In 9x11 folded mailer. Art Dept. Mt. Berry, GA. 1980. ex



back to key
---
Box 13
Folder Numbers 120-138
The Carrionflower Writ

. #1. Australia. In 5 1/2x8 1/2 envelope. Includes Nosukumo Press catalog. Includes poetry by Pete Spence and others. mg, bc




"ante vukov Projekt 'LINIJE'"

by Szombathy Balint, Peter Below, et al. March 1975, list br 3. (No.5). Includes 2 postcards.Yugoslav publication (with English translations) mailed from Germany in 5 1/2x8 1/2 envelope. pr, cr




Hollow Fox

. Poems by David Whited. [NRG. #10 / Sky Dog. #1]. Portland, OR: Skydog Press/NRG, no date. Unpaginated 5 1/2x8 1/2 wrps. Includes inserted form letter explaining publication. bk



Spider, Joe. [Untitled comic book]. Seattle, WA: Tokyo Publications, [1978]. Unpaginated 5 1/2x8 1/2 wrps. bk



McGrath, Tom. Misc. materials sent from Cie, St. Paul, MN. Includes fundraising request for movie on Tom McGrath. 3 postcards and a note to Scott from Michael at Cie. In 5 1/2x8 1/2 envelope dated 1980. pr




Primer

. Edited by Ron Wray. South Bend, IN: Primer Press, 1978. 47 pp. 5 1/2x8 1/2 wrps. bk




Xexoxial Endarchy

. No date, ca. 1990. 5 1/2x8 1/2 catalog with inserts. bc




Drafting the Budweiser Truck.

By Sanford Dorbin. Minneapolis, MN: Zelot Pamphlets, 1986. Unpaginated 5 1/2x8 1/2 wrps. bk




Soft Art Press

. Numero 18; 15 Sept 1979. "Special issue about Central and South America". Includes 2 postcards. In 5 1/2x8 1/2 envelope posted from Lausanne, Switzerland. pr




Parchment

. Two issues. Vol. 2, No. 3 (39 of 100) 1979. No. 14, June 1980. Waupaca, WI: Woodrose Editions. Includes note to Scott. mg




Miscellaneous Items

. Art Research Center events flyers (Kansas City, MO). Art Dept. of Berry College, Mt. Berry, GA (event flyer), Visualog 3 (event flyer). Walker Art Center (post card for event). pr



Helmes, Scott. Cover letter to shipment box 5. 12/21/2002. 1 sheet. ms




Commonpress

. No. 12. January 1979. "White Lies…" Robin Crozier editor, Sunderland, England. With note to Scott from Robin. Unpaginated 5 1/2x8 1/2 wrps. mg




Commonpress

. No. 15. 1979. "Selfportraits" Stempelplaats editor, Amsterdam, Holland. 57 postcards in plastic zip lock holder. Includes work by SH. mg




Commonpress

. No. 23. 1980. "Political Satire: Post Scriptum" Vittore Baroni editor, Italy. 500 copies. Perhaps 200 looseleaf inserts in crushed cardboard box wrps. In 8x11 envelope from Italy. Includes work by SH. mg




Commonpress

. No. 25. January 1980. "Ruins" Jane Ellen Gilmor editor, Cedar Rapids, IA. 68 pp. 7x8 wrps. Includes work by SH. mg




Soft Art Press

. Miscellaneous sheets and postcard inserts (total=8 items) by various artists including contribution by SH. In 5 1/2x8 1/2 envelope posted from Lausanne, Switzerland dated 1979. pr




Lightworks Envelope Show

. An Exhibition Catalog of Correspondence Art. Ann Arbor, MI: Lightworks Magazine, Inc. 1979. Unpaginated 4x11 wrps. Includes articles by Ken Friedman and Mike Crane and Charlton Burch. SH listed as a participant. bk




The Paris Review

. No. 75. Spring 1979. Includes a large section on visual poetry, with several pieces by SH. mg



back to key
---
Box 14
Folder Numbers 139-141
Laughing Bear

. Two issues: No. 2 & 3, 1977. No. 6, 1977. Both issues include work by SH. mg




Interstate

. Four issues: No. 9, (Vol. 3, No. 1) 1977. Nos. 10 & 11 (Vol. 3, No. 2 & 3) 1978. No. 12, (Vol. 3, No. 4) 1979. No. 13 (Vol. 4, No. 1), 1980. All issues include work by SH. mg




"Artists Report"

Mail-Art. Angelika Schmidt (Editor). Stuttgart, Germany: Kunstlerhaus Stuttgart, 1979. 125 pp. 1 of 1000. wrps. Includes inserted errata. In 8x10 envelope. Includes work by SH. bk



back to key
---
Box 15
Folder Numbers 142-150
Balint, Szombathy. Letter to Scott Helmes dated 3/17/79. Includes excerpted article by Balint with poem by Helmes. In 4x6 envelope from Yugoslavia. cr




The Lake Street Review

. No. 7. Includes a poem by SH. 1979. mg




Kaldron

. 13 newsprint issues: (1 copy) #17, Spring 1984. (4 copies) #9, Fall 1979. (3 copies) #10, Winter 1980. (2 copies) #6, Summer 1978. (3 copies) #8 Winter 1978-79. All issues include visual poetry or poetry by SH. mg




Nitty-Gritty (a survival tool chest)

. Rain. Vol 1, no. 3. 1977. Includes insert. Includes a visual poem by SH. mg




NRG

. 6 newsprint issues: (3 copies) No. 13 (12-13), 1979. (2 copies) No. 9 (no date). (1 copy) No. 6 (666), 1978. All issues include work by SH. mg




Intermedia

. Vol. 2, no. 3. Spring 1979. (2 copies). Includes work by SH. mg




Ear Magazine

. 3 newsprint copies: (2 copies) Vol. 3, No. 5. 1977. (1 copy) Vol. 4, No. 2. 1978. Both issues include work by SH. mg




Truly Fine Press –a review

. Vol. 6, no. 1. Newsprint. No date. Includes work by SH. (3 copies newsprint). mg



Kostelanetz, Richard & Henry Korn (Compilers).

Seventh Assembling

. A Collection of Otherwise Unpublishable Manuscripts. Brooklyn, NY: Assembling Press 1977. Includes work by SH. bk



back to key
---
Box 16
Folder Numbers 151-162
Kostelanetz, Richard (Compiler).

A Critical (Ninth) Assembling

. Precisely: Six, Seven Eight Nine. Brooklyn, NY: Assembling Press 1979. Includes work by SH. bk



Kostelanetz, Richard & Henry Korn (Compilers).

Eighth Assembling

. A Collection of Otherwise Unpublishable Manuscripts. [v. 2: K-Z] Brooklyn, NY: Assembling Press, 1978. bk



Kostelanetz, Richard (Editor).

Assembling Assembling

. Brooklyn, NY: Assembling Press, 1978. Wrps. Includes work by SH. bk




Kontexts

. Double issue 9/10 Winter 1976/1977. Amsterdam, Netherlands. 500 copies. Includes work by SH. mg




Bile

. Edited by Bradley Lastname. 1980. (26 of 200). Includes work by SH. mg



Hoffberg, Judith (Compiler)

The Umbrella Show

. Glendale, CA: Umbrella Associates, 1979. 31 pp. wrps. SH listed as a participant. bk, ex




Telephone

. 15. 1979. Edited by Maureen Owen. Includes work by SH. mg




Field project video exhibition/exchange catalog

. Miami, FL: Florida International University, Department of Fine Arts, 1975. Staple bound wrps. Includes work by SH. bk




Walker Art Center

. June 1977. Events program. Includes photo of SH and announcement of a concrete poetry event. pr




Festa de la Lletra

. 18 Setembre – 6 Octubre 1979. Barcelona, Spain: n.p., 1979. 70 pp. Wrps. In 9x12 envelope from Spain. Includes work by SH. ex




Poesia & Realta. World Exhibition

. 1980. Large folded poster (9x12) mailed from Italy. SH listed as a participant. ex



Kostelanetz, Richard (Editor).

Text-Sound Texts

. New York: William Morrow & Co., 1980. 441 pp. Cloth bound w/jacket. Includes work by SH. bk



back to key
---
Box 17
Folder Numbers 163-173
International Concrete Poetry Archive

. Catalogue 1. Oxford, UK. May 1980. In 9x13 envelope from UK. Compiled by Paula Claire. Extensive list of names, publications, etc. SH is included in the list. bc



Crozier, Robin (compiler and editor).

Views Three

. Sunderland, UK: [the author], 1979. 50 numbered submissions. Loose leaf in file folder used as 9x13 envelope from England. Includes work by SH. bk




Sphinx

. No. 9, Spring 1980. In 9x13 envelope from France. Includes work by SH. mg




International Mail Art Exhibition

. Monza, Italy.1980. Large folded poster in 9x13 envelope from Italy. ex



Zagoricnik, Franci & Zivko Kladnik (Editors).

Westeast Partisan People

. Anthology-Catalogue. Ljubljana, Yugoslavia: Galerija Skuc, July – August 1979. (137 of 300). 10x13 binding of 9x11 pc. Includes work by SH. bk



Baroni, Vitore. (Editor)

Arte Postale

. "Poems from the Inside" No. 16, Jan-Feb. 1981. In 10x13 envelope from Italy. Folded poster (listing contributors) enclosing clear plastic bag of loose leaf contributions. Includes work by SH. pr



Spence, Pete & David Powell. (Editors)

Ligne

. No. 1. Victoria, Ausralia: Post Neo Publications. Includes letter to Scott. Staple bound 9x11. No date. In 10x13 envelope from Australia. Includes note to Scott from Pete. Includes work by SH. bk




Artpool Exhibit Poster

. Large folded poster for 1987 exhibit of Artpool's international collection of artists' stamps. World Art Post. Museum of Fine Arts, Budapest, 1987. In 10x14 envelope from Hungary. SH listed as a participant. ex



Szombathy, Balint.

A konkret kolteszet utjai

. (3 separate enclosures) Volume numbers 1, 2 & 3. In 10x12 cardboard envelope from Yugoslavia. 1978. Includes work by SH. bk



Espinosa, Cesar (Coordinator). Primera beinal internacional de poesia visual y experimental en mexico 1985-1986. Resumen general. Oragnizada por nucleo post-arte. Mexico City, Mexico: Departamento del Distrito Federal, 1986. 72 pp. Wrps. Espinosa, Cesar (Coordinator). Universidad autonoma de puebla Segunda bienal internacional de poesia visual y alternativea en Mexico 1987-1988. Mexico City, Mexico: Universidad Autonoma de Puebla, 1987. 24 pp. Newsprint. Includes typed letter to Scott from Cesar Espinsoa dated July 17, 1987. Includes work by SH. bk, cr




The Carrionflower Writ

. No. 3. 1987. (2 copies in two separate 10x13 envelopes from Australia). Includes letter to Scott dated May 14, 1987 from Javant Biarujia. Includes work by SH. mg, cr



back to key
---
Box 18
Folder Numbers 174-188
Frangione, Nicola. (Editor).

Snapshot

. Mail art international. Alternative Art Magazine. 2/1980. N.l.: Edizioni Armadio E Officina, Nicola Fragione, 1980. Wrps. No. 54 of 100 copies. Includes work by SH. bk



Helmes, Scott. (Editor).

What What What

. N.l.: n.p., 1979? 8x11 photocopy; plastic strip bound with clear covers. Compiled by Robin Crozier; includes work by SH. bk




Exposicio Internacional de "Mail Art" Paisatge – Landscape

. Juliol/ Agost de 1987. Museu Comarcal de la Garrotxa, Catlalunya, Espanya. Wrps. Includes poster. In 9x12 envelope from Spain. Includes work by SH. bk, ex




It still doesn't matter

. (4 issues; 11 copies). No. 2 (1986). No. 4 (1986), 3 copies. No. 5 (1986), 4 copies). No. 6&7 (1986), 3 copies. All issues include work by SH. mg




Commonpress

. No. 26. Feb. 1980. Nicola Frangione (Editor) "Zen and Art. N.l.: Editions Armadio Officina. Wrps. No. 70 of 300 copies. Includes work by SH. mg




Alea

. No. 1. Tom Hamill (Editor). 3-hole punch screw bound 9x11 publication. Wrps. 48 pp. In 9x11 envelope from Alea / Mechanicsburg, PA dated 9/21/85. Includes note to Scott from Tom. Includes work by SH. mg




Communication/Alternative Expressions

. 1986. Florida State University, Department of Art, Tallahassee, Florida. Exhibit catalog and program. In 9x12 envelope. SH listed as a participant. ex




10-5155-20 Art Contemporain

. No. 5. Autumn 1983 (Sherbrooke, Quebec). In 9x12 envelope. Special issue: "Verbe et image: poesie visuelle." Includes work by SH. mg




APM

. The journal of art, performance & manufacture. No. 1. Also includes: one page flyer for No. 2: "special mess o' lit number." (9x11 in clear plastic mailer from UK) (All loose leaf.). Includes work by SH. mg




White Walls

. A Magazine of Writings by Artists. No. 7. Autumn 1982. Edited by Buzz Spector. Includes work by SH. mg



Wellman, Don (Editor).

PER/ception

. The 2nd volume in the O.ARS Series: Toward a New Poetics. Cambridge, MA: O.ARS, 1982. 223 pp. Wrps. Includes work by SH. bk




So 'n' So

. No. 8. Summer/Fall 1980. Edited by John Marron. Includes work by SH. mg




Konglomerati

. Vol. 5, no. 4. 1979. Includes work by SH. mg




The Gamut

. A journal of ideas and information. No. 9. Spring/Summer 1983. "Concrete Poetry" issue. Cleveland State University. John M. Bennett was one of the judges for this contest. Includes work by SH. mg




Postextual.

No. 2. Mexico. 1986. Includes note to Scott from Cesar Expinosa. Includes poster of "Primera Bienal Internacional de Poesia Visual y Experimental". SH listed as a participant. mg, ex



back to key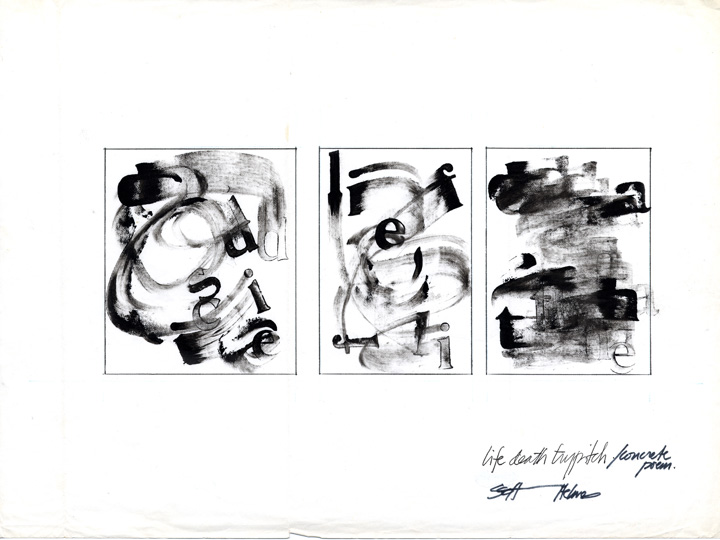 ---
Box 19
Folder Numbers 189-205
Poesia Experimental, ARA

. Sala parpallo – marc-abril 82 c/landerer, 5 excma. diputacio de valencia. Valencia, Spain: Sala Parpallo, 1982. 94 pp. Wrps. 8x6 bound publication. In 8x6 envelope. Includes work by SH. bk, ex



Robson, Ernest & Wimp, Jet (Initiators, Collectors, Editors).

Against Infinity

. An anthology of contemporary mathematical poetry. Parker Ford, PA: Primary Press, 1979. 90 pp. Cloth bound. Includes photocopy of book review. Includes work by SH. bk



Russell, Charles (editor).

The Avant-Garde Today

. An international anthology. Urbana, IL: University of Illinois Press, 1981. 269 pp. Cloth bound. Includes work by SH. bk




Theatre du Silence

. Rivista internazionale di ricerca poetica. No. 9. No date. Italy, in 4x6 envelope. From Giampaolo Guerini, Bergamo, Italy. Includes work by SH. mg



Helmes, Scott.

Book of Hours

. N.l.: [the author], no date. Staplebound 4x6 booklet. Wrps. Signed. (Note: either numbered or dated "5/77" or "5/11"). bk




Fetiche Journal

. 4/5 (1983?). Italy. In 4x6 envelope dated 1983. From Walter Gaspari, Chiuduno, Italy. (2 copies). Includes work by SH. mg




Mail-Art Exhibit

. Letter of acknowledgement with show review and list of participants, including SH, in show held at Coffeyville Community College, Coffeyville, Kansas. Dated Nov. 23, 1987. ex



Duquette, Michael.

Photographs/Making Photographs

. Toronto: Toronto Photographers Cooperative, 1981. Signed and numbered 116 of 300. Staple bound 8x7 un-paginated. SH listed as a participant. bk



Helmes, Scott. (Untitled). Vandergrift, PA: The Zelot Press, August 1986. Staple bound 8x6. Wrps. Unpaginated (11 pp.). (2 copies). Visual poetry. bk




Sky Views Magazine

. Seattle, WA. 1987. Loose leaf 5 1/2x8 1/2 inserts. 44 pp. In 8x5 envelope. SH listed as a participant in a mailart show. mg




Brain Cell

– 49. Cohen, Ryosuke (coordinator) Contains: 9x11 original stamp art poster 1 page release with 9x11 list of contributors/addresses). In #10-size envelope from Japan dated 11/17/1987. SH listed as a participant. pr




Anti Isolation

. No. 2. Networking New Arts. Madison, WI: Xerox Sutra Editions. 4x6 booklet, no pagination. [1980's] Includes work by SH. mg




Smile Magazine

. Vol. 64. May 1986. Germany, in 5x7 envelope. Includes work by SH. mg




Abracadabra

. 1981. 5th issue of 600 copies. Luxembourg, in 5 1/2x8 1/2 envelope. Includes work by SH. mg




Lost and Found Times

. No. 20. Feb. 1987. In 5 1/2x8 1/2 envelope from John M. Bennett, editor. Includes work by SH. mg




Xexoxial Endarchy

. Experimedia Simplexity. 1987-8. Madison, WI. Catalog of publications. Lists a book by SH. bc




Self Portrait

. An international mail art exhibit. Kent Arts Commission, Kent, WA. No date. List of participants and poster. SH listed as a participant. ex



back to key
---
Box 20
Folder Numbers 206-214
Anterem

. (2 issues) Vol. 6, Nos. 17/18 Agosto-Dicembre 1981, In 9x7 envelope from Italy. Nos. 32/33. Agosto-dicembre 1986. No. 17/18 includes work by SH. mg




Interstate

. (2 issues, 3 copies). Nos. 10/11; vol. 3, nos. 2 & 3. 1978. No. 18. 1987. (2 copies). Both issues include work by SH. mg




Antenna

. Vol. 5, No. 1. Summer 1980. In 4x6 manila envelope. Includes work by SH. mg




The Lake Street Review

. No. 21. Includes 10 year index. 1987. mg




Truly Fine Press –a review

. Vol. 6, no. 1. No date, 1980's. Newsprint. Includes work by SH. mg




NRG

. (2 issues (newsprint) + flyer). No.13 (no date). Nos. 25/26 (10th anniversary issue); no date. Flyer: a review of No. 27 on photocopy sheet; 2 sided). [1980's?] Both issues include work by SH. mg




Kaldron

. (4 issues; 7 copies; newsprint). No. 9, Fall 1979. No. 14, Spring 1981. No. 17, Spring 1984. No. 20, Fall 1986 (4 copies; 10th anniversary issue). All issues include work by SH. mg




O

. (4 issues). Numero 13, Mars 1982. Numero 14, Juillet 1982. Numero 26, Juin 1986. Numero 30, Aout 1987. All in 5 1/2x8 1/2 envelopes from Japan. All issues include work by SH. mg




Shi Shi

. (5 issues) No. 10, 1984. No. 14, 1985. No. 15, 1985. No. 16, 1986. No. 18, 1987. All in 6x10 envelopes from Japan. All issues include work by SH. mg



back to key
---
Box 21
Folder Numbers 215-220
Nitty-Gritty (a survival tool chest)

. Vol. 1, no. 2; 1976. 130 pp. Includes drawings by SH. mg




Woodrose Arts Today

. No. 6. Fall/winter 1983. Includes work by SH. mg



Rahmmings, Keith (editor).

Blank Tape Two

. A serial anthology of unconventional literature. Brooklyn, NY: [the author], 1978. 9x11 staple bound wrps. bk



Helmes, Scott.

Xerolage 3

. Madison, WI: Xerox Sutra Editions, 1985. In 9x11 wrps; unpaginated. bk




Granary Books

. Mnpls, MN. No date. 9x11 catalog. bc




Vinyl Arts

. (2 issues, 3 copies, newsprint). Vol. 4, no. 7; Oct 1987 (2 copies). Vol. 5, no. 1; Jan 1988. Includes work by SH and a review of a show he was in. mg



back to key
---
Box 22
Folder Numbers 221-245
Kontexts

. Nos. 9/10. Winter 1976-1977. Amsterdam. 500 copies, 9x11. Includes work by SH. mg




Score

. No. 5. No date,Oakland, CA. 9x12. Includes work by SH. mg




Small Press Books

. (Exhibit) Minnesota Wisconsin, Iowa. The Minneapolis Institute of Arts. Dec. 4, 1987-June 19, 1988. 9x11. (2 copies). Includes interview with Steven Clay of Granary Books. ex



Gallo, Philip. Typed note to Scott dated Nov. 7. 1986. Hermetic Press mailing promoting a new publication that includes SH's works. In 3x6 envelope. cr




Chatham Cultural Centre

. Chatham, Ontario. 1986. (3 inserts on exhibit). In 8x6 envelope. ex



Minnesota Center for the Book Arts. Misc. materials: 1) MCBA. Vol. 3, no. 3; Jan-Mar 1988, (2 copies). 2) Classes, Jan-Mar 1988 (3 copies). 3) (3) 4x6 postcards; "Works by 4 at MCBA". No date. Includes work by and about SH. mg



Helmes, Scott. (6 postcards & 2 bookmarks). 1) Four original postcards. Each with a different work by SH; notes SH's contributions to Xerolage #3, 1986. 2) Postcard: "The tension between words" 1983. (2 copies). 3) Two bookmarks (1 yellow, 1 green); assumed to be works of SH. pr




Walker Art Center

. Jan. 1988 program. Minneapolis, MN. (2 copies; newsprint). Includes announcement of a workshop on visual poetry. ex



Helmes, Scott. Cover letter to shipment box 6. 12/28/2002. 1 sheet. ms



Mail Review. 1 sheet. Ca. 1986. From

Photostatic

, no. 17, Iowa City, IA. A review of several alt press releases. Includes a review of SH's Xerolage, 3. bc



Helmes, Scott. Cover letter to shipment box 7. 12/28/2002. 1 sheet. ms




Mississippi Mud

. No. 23, Spring 1981. mg




Prop

. No. 3, Dec. 1979. mg



Yoshizawa, Shoji.

Poem 80. Concrete Poetry 1965-1980

. Tokyo: [the author], 1980. 45 pp. Signed. From Shoji Yoshizawa/Shi Shi Group, Japan, in 7x9 envelope. bk



Axelrod, Mark.

Neville Chamberlain's Chimera or Nine Metaphors of Vision or Visions of Nine MetaphorsM

. Milwaukee, WI: Membrane Press, 1979. Wrps. bk




Aerosol

. 'communication murale'. No. 20, Sept. 1982. Brussels, Belgium. mg




Intermedia Catalog

. Arts. Resources Communications. San Francisco, CA. No date. Ca. 1980. bc




O

. (11 issues). Numbers 11-12, 15-23. 1981-1985. From Tsuji Setsuko, in 6x8 envelopes from Japan. mg



Mew, Tommy.

"The Angel Show"

Art Dept., Mt. Berry, GA. Fold out mailer for art exhibition 1980-81. ex



Magorian, James.

Tap Dancing on a Tightrope

. San Jose, CA: Laughing Bear Press, 1981. 46 pp. In 6x8 envelope. Includes flyer advertising book. bk




Textopoetico

. 6. By Grupo "Texto Poetico". Valencia, Spain. 1981. In 6x8 envelope from Spain. mg



Spiegelman, Lon. Letter to Scott Helmes on back of photocopy art work. In 6x8 envelope, LA, CA, with 1-9-79 postmark. cr



Anderson, Gordon.

Point Blank (another day)

. 2 poems by... Minneapolis, MN: Maraja, 1980. Includes letter to Scott from Gordon Anderson dated 6/1/80.. In 6x8 envelope from St. Paul, MN. bk



Zelevansky, Paul.

The Crossroads Novelty Corp Spring Catalog

. NY, NY: CNC (The Participation Project Foundation), 1982. Wrps. In 6x8 envelope. Includes flyer insert about the booklet. bk




Hubris

. No. 1, Summer 1982. In 6x8 envelope, Concord, NH. mg



back to key
---
Box 23
Folder Numbers 246-261
So & So

. (2 issues) Vol. 2, No. 1, 1981. Vol. 2, No. 2, Spring 1983. San Francisco, CA. Both issues include work by Ron Silliman and others. mg




HaHa

. 1.! Post wave. Minimal rock. April 1982 ("No. 5 of 20" copies). Robert Fischer. Post marked Lugano, Switzerland, in 6x8 envelope. Underground music reviews. mg




The Fault

. Union City, CA. 7x8 newsprint. Special "TV" issue. mg




Arte Postale!

N. 19. May-June 1981. Includes note to Scott from Vittore Boroni. Includes 14 loose-leaf items. In 7x8 envelope from Italy. mg



D

ismisura

. Anno X –54/56. dicembre 1981. Mitologematica. From Giovanni Fontana, Italy, in 7x8 envelope. Includes visual poetry. mg



Frangione, Nicola.

Armadio e Officina

. Osservazioni critiche sula funzione del nervo ottico nella semiotica dell'arte. N.l.: ad Antonio Mariano, 1977. # 515 of 1200. Signed by author. Italy, in 7x8 envelope from Monza, Italy, 2-15-1979 postmark. Includes one insert with note from author. Conceptual book consisting of all black or white facing pages. bk



Frangione, Nicola.

The relativity of language as the enigma of art

. Maggio, Italy: editions Armadio e Officina, 1979. #156 of 250 copies. Includes 2 letters and 1 insert. Italy, in 7x8 envelope. Same as 251 above, except the pages also have holes drilled in them. bk




Theatre du Silence

. (3 issues). #5 (Oct-Dec. 1980). #6 (Jan-Mar. 1981). #7 (April-June 1981). In two 7x8 envelopes from Giampaolo Guerini, Bergamo, Italy. mg



Leidi, Silvia; Gaspari, Walter; Ceruti, Ivan.

Zaragoza's Poem

. Bergamo, Italy: Giampaolo Guerini, [1981]. 12 pp. Wrps. bk



Fontana, Giovanni.

Le lami del labirinto

. Dismisuratesti. [Supplemento al n. 54/56 di Dismisura.]. Alatri, Italy: Dismisura, 1981. Wrps. Includes inserted word art poem. In 4x6 envelope from Italy. bk




Fetiche Journal

. (2 issues). No. 2 (1981). No. 3 (1982). In two 4x6 envelopes from Gaspari Walter, Chiuduno, Italy. Postmarked Nov. 30, 1981; and March 20, 1982. mg




Minimal Rock

. No. 11; Vol. 2, No. 3; July 1981. In 5x7 envelope from Lugano, Switzerland. mg



Bennett, John M. (2 loose items). Meat Watch / Watch Meat [4 ½ x 5 1/2 card], 1976. Firm Inches. [Tri-folded 8x11 flyer], 1976 pr




Shi Shi

. (8 issues). No. 1, 1981. Numbers 4, 5, & 6 for 1982. Numbers 7 & 8 for 1983. Numbers 10 & 12 for 1984. Japan, in various size envelopes. Visual poetry, mainly Japanese. mg




Anterem

. (2 issues). Vol. 7, No. 19, April 1982. Vol. 8, No. 22, April 1983. Italy, in two 7x9 envelopes. mg




Interstate

. (3 issues). #14, 1981. #15, 1982. #16, 1984. Edited by Loris Essary, et al. mg



back to key
---
Box 24
Folder Numbers 262-271
Signos

. (3 issues). Nos. 28, 29 & 31 (1981-1982). In deteriorating paper wrappers from Cuba. Edited by Samuel Feijoo. Literary journal, including much visual poetry. mg




Lightworks

. (3 issues). Summer 1977 (loose-leaf issue in zip lock plastic holder). Winter 1977, Nos. 8/9. Fall 1978, No. 10. No. 10 includes work by SH. mg




Kaldron

. (4 issues; newsprint). #3, 1977. #15, 1982. #16, 1983. #18, 1984. Visual poetry. mg



Kempton, Karl (typoglifs) & Robertson, Kirk (poems).

Constellations

. Reasons and Methods. Grover City, CA/Fallon, NV: Rainbow Resin Press/Duck Down, 1981. Un-paginated. Large format newsprint (ala Kaldron). bk




Texas Circuit Newsletter

. Fall 1981, Nos. 10/11. (newsprint). mg




Perfect Arrow

. A publication of arrows, concepts & correspondance. Seattle, WA: Tokyo Publications/The Puppet House. 1 leaf, 2-sided. pr




Invisible City

. Number 28. December 1981. (newsprint). mg




American Book News

. Vol. 1, No. 2, 1977. (newsprint). Includes visual poetry by Richard Kostelanetz. mg




The Whittier Globe

. Vol. 6, No. 5, May 1981. (newsprint). Includes an article on Chaw Mank by Musicmaster. mg




Milkweed Chronicle

. Vol. 3, No. 1, Winter 1982. (newsprint). mg



back to key
---
Box 25
Folder Numbers 272-283
Helmes, Scott. [Collection of 167 loose-leaf 9x12 & 8.5x11 original word art, visual poetry, photo-copy art, cut & paste art, and rubber-stamp art poems. Note on original folder said: "Early poems—late 70s & early 80s."]. Editors comment: some of the best stuff in this collection. ms



Le Point d'Ironie. N.6. [Collective work of approximately 42 items listing contributors on cover of plastic bag containing items]. Riede, West Germany: N.p., 1979. Includes Anatolie au cafe de l'aube n. 12. Includes works by Robin Crozier, Ben Vautier, Lucien Suel, and others. pr



Lomholt, Niels. Collection of posters, newsletters, art exhibit sheets related to Swedish (?) boxers, and other inserts. Includes: North-Information. (3 issues) #13, 1977; #43, 1978; and #93, 1980. From Et Lomholt Produkt; dated 1975, in 9x14 folder. pr




Symbola

. Lettera circolare scritti de/sulla comunicazione estetica. 1983. 500 copies. Rome, Italy, in 4x15 envelope. mg



Claire, Paula. The development of my sound poetry, 1961-1983. An Illustrated Lecture for The Leading Edge Music Series, The Department of Music, Texas Tech University, Lubbock, Texas 79409 U.S.A. 12-14 April, 1983. Oxford, UK: The International Concrete Poetry Archive. Publication No. Two. 54 pages. Metal clip bound 9x11 mimeo. And: Programme for the Texas Tech University, Dept. of Music's "Leading Edge Music Series" March 29, 1983 with various inserts enclosed in printed file pocket folder 11x12.5 prepared for event. Includes cover letter. bk




Scree

. Nos. 22 & 23. 1984. From Duck Down Press, Fallon, NV. (newsprint). mg



Truck, Fred.

The development of signs in space. A futurist communication from Bolon Dzacab

. Des Moines, IA: Cookie Press, 1981. 20 pp. staple-bound wraps. And: Truck, Fred (Curator). The Des Moines Festival of the Avant-Garde Invites You to Show! (without really being here). Des Moine, IA: Cookie Press, 1979. Staple bound wraps, no pagination. bk




Parchment

. #21, 22, 23; two post cards; and three publisher order sheets. From Woodrose Editions, Waupaca, WI, in 10x13 envelope. mg, pr, bc




Score

. #4 (Oakland, CA) "KO" by Karl Kempton & Loris Essary, no date (1984?). Includes: broadsides, posters, poetry sheets, postcard and note to Scott. In 10x13 envelope. mg, pr



Postal Purpose/Show of Mail Art. August 1983. 3 inserts: post card, poster and application form. In 9x13 envelope from Barcelona Spain. ex




MC

: 5. September 1983. From MC Crime, Brooklyn, NY, in 9x12 envelope. (newsprint). mg



Art Research Center. Kansas City, MO. Materials celebrating its 10th anniversary (1966-1976): two large posters; catalog of ARC publications; plastic-strip bound collection of articles, poetry and photos celebrating 10th anniversary; invitation from Paris France for TELIC; miscellaneous flyers. pr, bc, bk



back to key
---
Box 26
Folder Numbers 284-301
10-5155-20. (2 issues) Nos. 6/7, Winter 1983-84. No. 8, Spring 1984. Canadian art journal. mg




Common Ground Quarterly

. (St Peters, PA) Fall 1983. mg




Walker Art Center

. (program flyer, focusing on Word Works events.) October 1983. ex




OBU International

. [untitled pamphlet of graphic art]. Montreal: OBU International, 1984. Wrps. Includes cover letter. bk



University Art Gallery. Grand Forks, ND. Two inserted cardstock flyers featuring current exhibitors: Kostelanetz & de Kooning. In 9x9 envelope dated 1980. ex




Ear Magazine

. (2 issues) Vol 3, No. 6, Sept./Oct. 1977. Vol. 4, No. 1, Feb. 1978. (newsprint). mg



Murnau, Lt. (editor). Janus Head. Riede, West Germany: Lt. Murnau, 1981. 50 pages (comes with 45 rpm record: "Near the Edge" Lt. Murnau (editor); Llys Dana (producer). Includes letter to Scott from Jacques Juin but initialed as "RH". Includes order form. In 9x10 envelope from Germany. bk, bc, cr




Bile

. (eight issues; all without volume, issue or date other than cited Chicago postmarks; covers used to identify following issues). #1: "Portrait of Lastname: …" includes Bile Broadside #4. #2: "Overnight…" printed on 11/17 sheets of mixed paper. #3: "Thus Spake Dadathustra" in envelope dated 11.12.1982. #4: "Lunch hour" in envelope dated 9.15.1982. #5: Rhinos on cover; includes; includes Bile Broadside #5/6 in envelope dated 7.19.1982. #6: "Nuclear Flash…" in envelope dated 1.20.1983. #7: "1st anniversary" includes Bile Broadside #2. in envelope dated 7.1.1980. #8: "3-D Bile Molecule…" in envelope dated 12.12.1981. Edited by Bradley Lastname. mg



Madson, Jerry. Xebec. Bemidji, MN: Truly Fine Press, 1981. Staple-bound wraps. No pagination. bk




Me Magazine

. (2 issues). Vol. 3, No. 2. (issue no. 5) no date from International Mail Art/Cavellini in 9x12 envelope with NYC postmark of 3.18.1983. Vol. 2, No. 2 (supplement) 1981 (contains two separate "Me" items) in 9x12 envelope from Carlo Pittore, NYC. mg




Xero Post

. Issue #3, 1981 (2 copies). SH listed as a participant. mg




Anatolie au cafe de l'aube

. No. 12. (no date) Includes folded poster. In 9x12 envelope from Belgium. mg




La Opinion

. Suplemento Cultural. Num. 11. (7.13.1980) "Cultura chicana: Los Angeles" (newsprint). mg



Dorrien, Tom (editor).

Cheap Trash One

. Ann Arbor, MI: Cheap Trash, 1978. A limited edition, no. 72/200. In 9x12 envelope. bk



Five/Cinq Aesthetics Limited. One share of stock issued to Scott dated 12.25.1978. In envelope from Vancouver, British Columbia. Pr



Cole, David. Once ar(t). [S.l.: s.n., ca. 1982) Visual poetry. bk



Niotou, Henri. [untitled]. Paris: [the author], no date [1978?]. Signed 125/2000 copies. Includes note to Scott. In 9x12 envelope from France. bk




Clown War

. Issue #20, Jan 1979, Brooklyn NY. Edited by Bob Heman. mg



Bennett, John M. (2 items).

Image Standards

. [Columbus, OH]: Luna Bisonte Prods, 1975. Staple-bound, 10 pp. Batwinged Pontiacs (Time's Dipstick No. 3); 1975, 1 sheet. bk



back to key
---
Box 27
Folder Numbers 302-308
Miscellaneous [6 loose items]. Three sheets of two-sided offset art with stapled flip-up sheets upon each (anonymous). Three poetry post-cards. pr



Robson, Ernest. [Miscellaneous loose-leaf items ca. 1979]. Primary Press order flyers (4 sheets). Photo-copied reviews and notices (8 sheets) of "Against Infinity" edited by Ernest Robson. Photo-copied reviews and journal subscription flyers (11 sheets) mostly regarding Ernest Robson. pr, bc



Helmes, Scott. Cover letter to shipment box 8. Dated: 4.I.2003. 1 sheet. cr



Lobach, Bernd (Editor). International Artists' Postage Stamps Exhibition Weddel 1985. Cremlingen/Weddel, Germany: Designbuch Verlag, 1985. Unpaginated wrps. ISBN 3-923971-09-5. Includes work by SH. bk



Bleus, Guy (Editor). W.A.A. (World Art Atlas). MAIL eARTh PROJECT. Brussel, Belgium: Commissariaat-General Voor de Internationale Culturele Samenwerking, 1983. (Sponsored by the ministrie van nederlandse kultuur). Un-paginated. Wrps. Number 401 of 800. Includes postcard of World Art Atlas Show 1981-1982. In 5 1/2x8 1/2 envelope from Belgium. Includes work by SH. bk



Mail Art. The Scroll Unrolls. July-October 1985. Janco-Dada Museum. Ein-Hod, Israel." Yarn bound booklet of postcard size works of mail art. In 6x8 envelope, from David Cole, Brooklyn, NY. SH listed as a participant. bk



Alternatives Vorlesungsverzeichnis Freier Nachbarschaftsuniversitaten : e. anderes Bildungsbuch.—Lindenfels/Odenwald : Suin Verlag, Nr. 5 (1983). 232 pp. In 4x8 envelope from Germany. Networking and art sources; SH listed. bk



back to key
---
Box 28
Folder Numbers 309-314
Bob Dog Galleries. (2 exhibits). 1) "Participant documentation: the adventures of bob, the dog of knowledge, an international postal project & exhibition, 1985" (comes with pen, business card and color slide). 2) "Mars invades Earth; participant documentation; an international triennial postal project & exhibit, 1985/1988" (comes with pen, business card and color slide). Each mailed in 3x9 envelopes from San Francisco, CA. SH listed as a participant. ex




White Walls

. A Magazine of Writings by Artists. #7. Autumn 1982. Includes work by SH. mg




Anti Isolation

. Networking New Arts. #2 (1985?). Madison, WI: Xerox Sutra Editions. Includes work by SH. mg




Origin Books

. Poetry, Broadsides & Little Magazines. No. 16. Minneapolis, MN. No date. Lists several items by SH. bc



NRG/Skydog Press. NRG #11/Skydog Press #2. No date. Includes note to SH. Consists of a book by Dan Raphael, Polymerge, with cover art by SH. mg




Commonpress

. #48. Schmidt-Olsen, Carsten (Editor). "Self Examination". No date. In 5x7 envelope from Hjorring, Denmark. Probably includes work by SH. mg



back to key
---
Box 29
Folder Numbers 315-343
Please Post. List of participants, including SH, for mail art show in Rochester, November, 1982. ex




The 1983 Mail Art Beauty Pageant

. 11/23/1983. List of participants. Letter-size envelope. Robt. Ashworth, Bellingham, WA. 12/5/1983 postmark. SH listed as a participant. ex




The Super Number Mail Art Roster.

Letter-size envelope. Robt. Ashworth, Bellingham, WA. 11/16/1984 postmark. SH listed as a participant. ex




Tasteless Texas Mail Art Show

. (2 copies) List of participants. Letter-size envelope. Rockwell High School Art Dept. Dallas, TX. In two letters with 1/24/1986 postmarks. SH listed as a participant. ex




Pressing Issues.

Mail Art Exhibition 1983. List of participants. University of Colorado, Fine Arts Dept. 6/7/1983 postmark. SH listed as a participant. ex




Arts Day.

List of participants. 4/10/1982 postmark from Sunderland Polytechnic, England. Organized by Robin Crozier. SH listed as a participant. ex




Yellow Drawing Installation.

Poster listing participants. Letter-size envelope. 11/30/1984 postmark. Gesamthochschule, Kassel, Germany. SH listed as a participant. ex




Women Today

. (2) inserts. List of participants and postcard. Letter-size envelope. 3/5/1985 postmark. From Dieter Brookmann. Rostock, East Germany. SH listed as a participant. ex




Mail-Art Ausstellung

. List of participants on poster of show. Letter-size envelope. 9/17/1994 postmark. Kunst & Handwerk, Rosenheim, Germany. SH listed as a participant. ex




Hands-On-Books Exhibition

. April 3-27, 1986; Grimsby Public Art Gallery, Grimsby, Ontario. Letter-size envelope from Lina Jabra, Toronto. Two inserts: letter to artists in small pocket envelope and a unique card advertisement for exhibit. ex



Cohen, Ryosuke. Includes 4 inserts: three regarding "AU International Mail Art Exhibition" and one showing artist's works. In envelope from Osaka, Japan. cr, ex




La Poire D'Angoisse

. (2 issues). No. 33 "Tetes" 8/4/1985, France, in 4x5 envelope with 4/9/1985 postmark. No. 34/"Mail Art" Vol. 1, comes with Didier Moulinier catalog; France, in 4x5 envelope with 4/12/1985 postmark. Both issues include work by SH. mg, bc




Mail Art Slide Show.

(2 items). 1) "Mail Art Slides". Bronby Strand, Denmark: PLAGIaT, 1982. (unbound booklet). From Denmark, in 5x7 envelope, 9/9/83 postmark. 2) "Mail Art Slide Show…" … "Polaroid to PLAGIaT" flyer and newspaper article. From Denmark, in 4x5 envelope with 2/15/1984 postmark. Includes work by SH. ex



Crozier, Robin. Two inserts: list of participants for slide collection used in college course; and a "Memo(random)" letter started by Robin Crozier about 8.8.84, with Klaus Groh's letter on it. In 4x5 envelope from Sunderland England. SH listed as a participant. cr




Cultura Alternativa

. Mail art show poster with list of participants. Includes note to Scott. From Brazil in 4x5 envelope with 6/29/1982 postmark. SH listed as a participant. ex




Mobil ohne Auto! Mail Art Project.

(3) original pieces of mail art signed and with notes to Scott. From Dresden, Germany, in 4x5 envelope wtih 9/28/1985 postmark. SH listed as a participant. ex




Post Industrialism

. Year One. Emmett Walsh (editor). Gulfport, FL: Post Industrialism, 1981. Staplebound wrps. (Relic 20 of 100). Signed. Includes loose inserts. In 9x9 clear plastic envelope from Post Industrialism, Gulfport, FL. 6/29/1982 postmark. SH listed as a participant. bk




The Magic Show

. An International Mail Art Exhibition. 12/19/1982-1/21/1983. Santa Barbara, CA. List of participants. SH listed as a participant. ex




Maps: A Mail Art Show

. 12/7-30/1983. List of participants. In 6x8 folded envelope. Diverse Works, Houston, TX. SH listed as a participant. ex




Echo

. International Mailart Show. 3/21-4/3/1985. List of participants. In 6x8 folded envelope. Diverse Works, Houston, TX. SH listed as a participant. ex



This is mail-art formed in greetings. Two items: show booklet. And copy of Italian newspaper Giornale di Bergamo Oggi dated April 8, 1984. In 4x15 envelope with 4/9/1984 postmark from Bergamo, Italy. SH listed as a participant. ex




Television! An exhibition of correspondence art

. NYC, 7/1-30/1983. Program booklet and list of contributors. From Larry Walczak, in 6x8 envelope, Hoboken NJ. SH listed as a participant. ex



Pig Iron. Mail art exhibition 5/14-28/1984 with list of contributors. Includes book of matches. From Studio Arts Dept., University of MN, in 6x8 envelope. SH listed as a participant. ex



Los Derechos Humanos. Exposicion Internacional de Arte Correo. Peru 1983. Large foldout poster with list of participants. In 6x8 folded envelope from Lima, Peru with 1.19.84 postmark. SH listed as a participant. ex




The Gamut

. No. 9; Spring/Summer 1983. Features concrete poetry, including some of SH's. John M. Bennett was a judge for this project. In 6x8 envelope, postmarked Cleveland, OH. mg




The Lake Street Review

. (2 copies) No. 19; Summer 1985. In 6x8 envelope, Minneapolis. MN. Includes work by SH. mg



Pelo+/Pelo-. Manifesto di Aggregazione 3. Bergamo, Italy: Artestudio, 1982. Un-paginated, staple-bound, 8x12 photocopy (coming unbound). Includes two flyer inserts of related events. From Emilio Morandi, Bergamo, Italy, in 6x8 envelope, 7/10/1982 postmark. SH listed as a participant. ex




Commonpress

. #55. "Mail Art About Mail Art." Booklet printed in conjunction with 3/5-28/1984 exhibition which includes list of participants. Dallas, TX: Richland College, 1984. Includes insert. From Modern Realism, Dallas, TX, in 6x8 envelope. SH listed as a participant. mg, ex



Luigetti, Serse. Paper Stamp 1. Post-Post Stamps. Perugia: [the author], 1985? 8x12 staple-bound photocopy. From Perugia, Italy, in 6x8 envelope, with 4/2/1985 postmark. Includes work by SH. pr



back to key
---
Box 30
Folder Numbers 344-351
Telegraphy and Mail Art Project. Guy Bleus (coordinator). Provincial Museum Hasselt.1983. Large folded poster and large-format folded list of participants. In envelope, 3-29-83 postmark from Belgium. SH listed as a participant. ex




Paper Planet

. "Mostra di Mail Art Paper Planet. Ferro di Cavallo Dal 30 Guigno al 30 Dicembre. Imagini per la citta." Large folded poster and 8x14 staplebound collection of photocopy art pieces and list of participants (14 sheets). In 10x13 envelope from Serse Luigetti, 1983 postmark, Italy. Includes work by SH. ex




Alfabeto

. Mostra internazionale di arte postale. dal 12 dicembre 1983 al 12 gennaio 1984. Libreria Petrini, Torino (Italy). Large folded poster. Thank you flyer to participants. Original signed photocopy art by Umberto Stagnaro. In 10x13 envelope, 1984 postmark, Italy. 2nd Mailing; same show: Alfabeto. Mostra internazionale di arte postale. Chiostri di S. Caterina 30 Giugno – 9 Lublio 1984. Ligure, (Italy). Large folded poster and list of participants. In 10x12 envelope, 7-21-1984 postmark, Italy. SH listed as a participant. ex, pr




Alphabet

. International exhibition of mail art. Palazzo Nervi dal 3 al 15 Luglio 1982. Includes: folded poster, brochure and list of participants. In 10x13 envelope with 7-9-1982 postmark, Italy. SH listed as a participant. ex




International Mail/Copier Art Exhibition

. Arts & Technology Festival '85. Halifax, Nova Scotia: Technical University of Nova Scotia, 1985. Un-paginated. 8x14 plastic spiral bound in clear plastic protective holder. Includes insert: "Report on [the show]". SH listed as a participant. ex



Truck, Fred (Curated and realized by).

The Biennial Report of the Performance Bank

. Des Moines, IA: The Cookie Press, 1982. Collection of items enclosed in 9x15 tied file pocket folder. 1) Opal Louis Nations. "A Silent Poem Performed in Mime by One or More Persons As Desired." Des Moines, IA: The Cookie Press, 1982. 2) three postcards by Fred Truck. 3) five sheets of Des Moines citizens signatures endorsing a Poetry Hall of Fame (as suggested by Scott Helmes). 4) two sheets explaining the "Performance Bank". 5) one 7x7 continuous feed computer printout in alphabetical order by artist name describing ideas and works of art. 6) one 8x12 continuous feed computer printout in alphabetical order by artist name containing correspondence describing ideas and works of art. 7) "Memos" (1982 collection of performances by various participants in staplebound folder). 8) "Visuals" (1982 collection of art & proposed performances by various participants in staplebound folder). 9) "XL Visuals" (1982 collection of art & proposed performances by various participants in staplebound folder). ex, pr




Target Earth:

international mail-art exhibition opposing nuclear proliferation... May 1982 (poster). The Woman's Building, LA, CA, in 12x17 envelope from Lon Spiegelman. SH listed as a participant. ex, pr




Le Point d'Ironie

. Box contains approximately 81 pieces of original art from many contributors with size ranging between 8x12 to 1x1. Cover of box has sickle and "666". Inside box is stamped #59 of 100 (initialed by editor). Includes a work by SH, "Nothing by Mouth". ex



back to key
---
Box 31
Folder Numbers 352-364
Arts Above the Couch

.. List of participants. From Arno Arts. In 10x13 envelope, 7-13-1984 postmark from Arnhem, Netherlands. SH listed as a participant. ex




Arts In The City

.. Mail-Art Project. 16 May – 4 June, Arnehm, Holland. 17-25 September, Nijmegen, Holland. No Date (ca. 1980s). List of participants. In 10x13 envelope from Holland. SH listed as a participant. SH listed as a participant. ex




Mail-Art 666

.. Expo, exhibition a domicile Charleroi 1982-1983. Staple-bound list of participants and photo-copies of art. Organized by Thierry Tillier. In 9x12 envelope, 12-19-1983 postmark from Belgium. SH listed as a participant. ex




Resoundscore

. Paula Claire and Peter Stacy. (1) brochure. (6) flyers of photocopy art, Resoundscore and the International Concrete Poetry Archive. In 9x12 envelope, 11-18-1981 postmark from From Hartford, CT. SH listed. pr




So Take It To The Press

. Curated by Tom Broderick and John Hogan. Mo Ming Gallery. Chicago, IL. October 2-31, (1982?). Plastic spiral bound collection of selected materials including loose-leaf objects within as listed on inside of rear cover. In 9x12 envelope from Richard Kostelanetz. SH listed as a participant in show. ex, pr




Hollywood Confidential

. Terrence McMahon (collater). Union City, CA: The Fault, 1983. Staplebound wrps. Unpaginated. List of participants on last 2 pages. In 13x15 envelope, 1983 postmark. SH listed as a participant. ex, pr




The Portland Review

. #3. Spring 1983. 346 of 750 copies. From Portland, ME, in 9x12 envelope, 1-5-1984 postmark. Includes article: "Mail Art" by Rick Abrams. mg



Lomholt, Neils. (Compiler)

"Boo Bookart 1:1. Book Art – Bookworks – Bookobjects at Hvidoure (spelling?) Art Library October 1983"

. Odder, Denmark: Lomholt Formular Press, 1984. Wrps. Unpaginated. Includes flyer inviting contributions to the "Falling Annual Livingroom Video Festspiel 84". In 9x12 envelope from Denmark. SH listed as a participant. ex, pr




Devil/Paradis

. No. 11. 1984. Staplebound photocopies; includes loose photocopies. In 10x12 envelope from Thierry Tillier, Charleroi, Belgium. SH listed as a participant. mg




Fantastic Art Show

. Two large folded posters individually mailed. (one poster with inserted communications about next show). From Rosamilia, Castel San Giorgio, Italy, in 8x11 folded mailers, one dated Oct. 12, 1982. SH listed as a participant. ex




MC

. Six issues; 9 copies. #1, no date. #2, 1982 (2 copies). #3, 1982 (2 copies). #4, March 1983 (2 copies). #6, January 1984. #7, Spring 1984. Some issues come with mail-art envelopes posted from Brooklyn, NY. Some are newsprint. SH has work in all 3 issues. mg




Old

. International mail art show. Portland fine arts gallery. June 1982. Folded poster and list of participants. From UMVA News, Portland, ME. SH listed as a participant. ex




Artists Revolution

. Mail Artists International 1986 Calendar. Includes insert for next 1987 calendar. From Hele'n' Heaven, Berkeley, CA, in 9x12 envelope, 1-13-1986 postmark. Includes work by SH. ex



back to key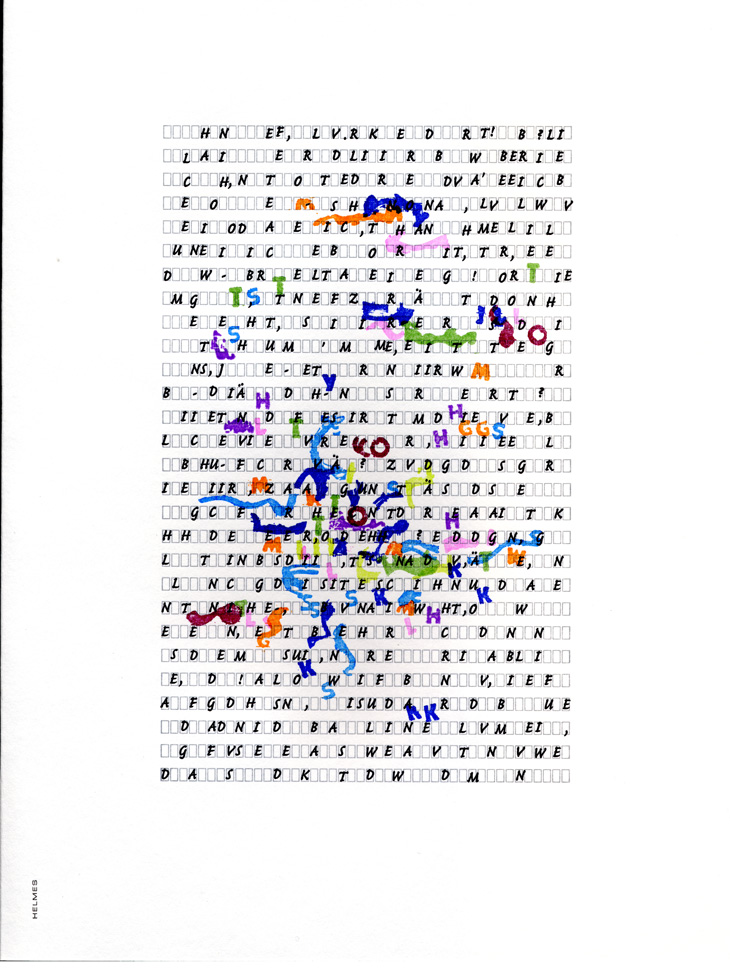 ---
Box 32
Folder Numbers 365-380
Woodrose Arts Today

. Number 6. Fall/Winter 1983. Includes work by SH. mg




Be My Valentine

. Mail Art Show. Staplebound list of participants and art. From Suez, Funchester, KY. Includes work by SH. ex




Xerolage

. #3. 1985(?). Special issue completely featuring Scott Helmes. Madison, WI: Xerox Sutra Editions. (2 copies). Catalog of Helmes' publications listed inside rear cover. mg, bc




Kaldron.

#17, Spring 1984. (5 copies). Newsprint. Includes several works by SH. mg




NRG

. Nos. 25/26. 10th anniversary. No date. Newsprint. Includes work by SH. mg




Shi Shi

. (2 issues) No. 9. 1983. No. 11. 1984. In 8x10 envelopes from ShiShi Group, Tokyo, Japan. Both issues include work by SH. mg



Miller, David M. (Compiler)

This Mattress Has Spring: A Quality Label

. A Mail Art Exhibition in Celebration of the Vernal Equinox, March 20, 1984. St. Paul, MN: David M. Miller/A Prairie Pin Up, 1984. 18 pages. Wrps. Includes inserted addendum. SH listed as a participant. ex




Revolucion

. Poema Colectivo. Exposicion 17 al 27 de Mayo. Universidad Autonoma Metropolitana – Xohchimilco. N.l.: n.p. [1984]. 20 pages. In 6x7 envelope from Mexico with 7/27/1983 postmark. SH listed as a participant. ex




When I Was A Cowboy

. Calgary, Alberta: Off Centre Centre, 1985. 14 pages. Includes postcard promoting show. Includes 2 tickets to World Peace & Nuclear Disarmament (Anna Banana/Ladies Sewing Circle Peace Initiative). . In 6x8 envelope, 9/11/1985 postmark. SH listed as a participant. ex, pr




Murdes Communications

. Folded mail art exhibit poster with list of participants. Bruxelles, Belgium: AEROSOL, 1984. In 6x8 envelope, 5/21/1984 postmark. SH listed as a participant. ex




"Figura/Scrittura/Partitura".

55 poeti americani tra suono e imagine. Liceo Artistico Statale "Anton Giulio Bragaglia" Frosinone. 19-31 Maggio 1984. N.l.: n.p., [1984]. Wrps. Unpaginated. Includes fold out poster for show. (Second group of items for this show duplicate above except as noted). "Figura/Scrittura/Partitura". 55 poeti americani tra suono e imagine. Galleria "Il Punto". 16-30 Giugno 1984. N.l.: n.p., [1984]. Wrps. Unpaginated, but with expanded text in English. Includes fold out poster for show. From Dott. Arch. Giovanni Fontana/dismisura, in 6x8 envelope, from Italy. Also included: list of participants for "Figura/Scrittura/Partitura" show (card) in letter-size envelope with 7/12/1984 postmark from Galleria il punto/Giovanni Fontana. SH listed as a participant. ex




Administration

. Telegraphy and Mail Art Project. Guy Bleus (organizer). Provincial Museum Hasselt. Announcement card. In 4x5 envelope from Belgium with 3/14/1983 postmark. ex




Renault Mail Art Show

. Thank you letter and list of participants. In 6x8 envelope with 5/23/1985 postmark from France. SH listed as a participant. ex




Arno Arts Mail Art Show

. 1982. Thank you flyer (photocopied) with list of participants. No envelope. SH listed as a participant. ex



Russell, Charles (Editor).

The Avant-Garde Today

. An International Anthology. Urbana, IL: The University of Illinois Press, 1981. 269 pages. Wrps. (2 copies). Includes 6 works by SH. bk



Wellman, Don (Editor).

Coherence

. A gathering of experiments in writing: TOWARDS A NEW POETICS. (O.ARS/1). Cambridge, MA: O.ARS, 1981. 215 pp. Wrps. Includes 3 sheet letter from editor about this first publication and following two being planned. In 6x8 envelope; no postmark date. Includes work by SH. bk



back to key
---
Box 33
Folder Numbers 381-387
Wellman, Don (Editor).

Per/ception

. (O.ARS/2). Cambridge, MA: O.ARS, 1982. 223 pp. Wrps. Includes work by SH. bk




So 'n' So

. No. 8, Summer/Fall 1980. "Visual Syntax". Includes work by SH. mg




Enclitic

. Volume 5, no. 1, Spring 1981. Includes work by SH. mg




Commonpress

#37. Lara, Mario (Editor). "A Mail Art Action. Things to think about in space. San Diego, CA: Commonpress, 1980. No. 157 of 300. Wrps; 6x8 plastic spiral bound. In 9x10 envelope. San Diego, 11/28/1980 postmark. Includes work by SH. mg




Kunstgartenschau/Artgardenshow

. 31.5. – 30.7.1981 Kassel, Germany. Bound in white cardboard shipping container (but no postmarks or addresses). Contains 3 groups of items: 1) 106 looseleaf photocopies (8x11) of art contributed to the show with heavy board cover showing names of contributors. 2) envelope with 6 post cards & 4 art inserts. 3) Olbrich, Jurgen O. "In a small frame." Kassel, Germany & Gdansk, Poland: Galeria GN, 1981.15 pages. Wrps. SH listed as a participant. ex, pr




Exposition Internationale de Tampons

. Du 20 mars au 3 avril 1981 inclus. Introduction by G. Brys-Schatan. Bruxelles: I.S.E.L.P., 1981. Bound with cardboard covers and 2 metal clip rings. Includes work by SH. ex



Kostelanetz, Richard & Cole, David (Compilers).

Eleventh Assembling

. Pilot Proposals. Brooklyn, NY: Assembling Press, 1981. Wrps. (2 copies). Includes work by SH. bk



back to key
---
Box 34
Folder Numbers 388-411
Szombathy, Balint. Letter to Scott Helmes dated March 19, 1982. Includes newspaper clipping of book (cf. folder 380) reviewed by Balint, in Hungarian. In 5x7 envelope from Yugoslavia. cr



Jocs i Joguets exhibit. Includes postcard and list of participants. In 4x6 envelope, 11/27/1981 postmark, from France. SH listed as a participant. ex



Visuelle Erotik exhibit. Includes poster and list of participants. In 4x6 envelope, 3/26/1982 postmark, from Berlin, East Germany. SH listed as a participant. ex



Art Photo-Copies Exhibition! 26 II-21 III 1982. Curated by U. Carrion. Poster and list of participants. In 4x6 folded poster envelope from the Netherlands. SH listed as a participant. ex



Marie, Isabelle. Three inserts of typed material on clear color plastics. 1) list of participants (name of show unknown), 2) a poem(?), and 3) address for Marie. In 3x5 letter envelope, 4/16/ 1982 postmark, from France. SH listed as a participant. ex



All California Erotic Art Exhibit. Also International Mail Art. New Vistas Gallery, Vista California. List of participants and cover letter. In 3x6 envelope, from G. Arthur Hopkins, 12/29/1980 postmark. SH listed as a participant. ex




MC

. (no volume or issue numbers). Cole, David and Paul Zelevansky (Editors). 1 8x11 sheet (2 sided). In 4x9 envelope, from New York City, 1982 postmark. mg



Post/Arte Colectivo - 3. 1 8x13 sheet (2 sided). In 4x8 envelope from Mexico, no date. Includes work by SH. cr




Art and the Sea Project

. A folded 8x12 flyer (2 sided) includes list of participants. 7/4/1981 postmark from Sunderland, UK. From Robin Crozier. SH listed as a participant. ex




Libellus

. "A Monthly Mail-Art Publication" (2 issues). No. 8, May 1981 (includes 2 sheets of mail-art stamps); and No. 9, June 1981. Includes notice for the Antwerp International Mail Art Festival. In 5x9 envelope, 8/12/1981 postmark, from Guy Schraenen in Belgium. Includes work by SH. mg, ex



Zapp State Bank stock certificate. One sheet one-sided photo-copy of certificates made out to Scott Helmes. In 4x9 envelope from Mohammed, Genova, Italy. Unclear postmark. cr




The Badge Show

. Arte Postale! Special supplement to N. 13 – October 1980 – 400 copies. Folded 4x9 mailer (6 sheets) with 9/29/1980 postmark from Vittore Baroni in Italy. SH listed as a participant. ex




Pelo + / Pelo – Exhibition of Mail Art

. Poster and two lists of participants. In 4x9 envelope, 11/17/1981 postmark, from Artestudio, Bergamo, Italy. SH listed as a participant. ex




Clown War

1 copy of #22 (Berrigan, Ted.

"Carrying A Torch."

January 1980, 500 copies printed). 1 copy of #23 ("Clywn Wr" 1980). 5 copies of Clown War #24 ("Cloud War" 1980). Sent by editor Bob Heman, Brooklyn, NY. Includes work by SH. mg




Commonpress

No. 36. Ruch, Gunter (Editor). "Idea and Communication". From Switzerland, in 7x9 envelope wtih 12/22/1980 postmark. Includes work by SH. mg



International Mail Art Show 1981 / Mostra Internacional de Arte Postal. Porto Alegre, Brasil. Poster with list of participants. In 7x8 folded poster from Brazil. SH listed as a participant. ex




Aerosol

. No. 16, Aout 1981. Poster: Aerosol/Metallic A. International Graffiti Mail Art. Du 17 Aout au 26 Septembre 1981. In 6x8 folded poster, from Brussels, Belgium. SH listed as a participant. mg, ex



Stagnaro, Umberto (compiler/editor).

Alfabeto.

International Exhibition of Mail Art. Finale Ligure, Italy: The Editor, no date. No. 248 of 250. And 4x9 piece of original art "Alphabet" signed by Stagnaro. In 6x9 envelope, from Italy, with 1982 postmark. SH listed as a participant. ex, pr




O

. Number 10, April 1981. In 6x8 envelope from Japan. Includes work by SH. mg



van Barneveld, Aart. Rubber Stamp Publications (an index). Amsterdam: Stempelplaats, 1980. Wrps. Unpaginated. 500 copies. (A special issue of Rubber. Vol. 3, no. 4-6, April-June 1980). In 10x7 envelope from Amsterdam, Netherlands. Includes work by SH. bk, mg



48226. A Mail Art Show. Detroit Focus Gallery. Aug. 15 – Sept. 12, 1981. Booklet includes list of participants, 24 pp. SH listed as a participant. ex




Pig Iron

. December 1980. No. 8. (2 copies). Includes work by SH. mg




Metronom – "Llibres D'Artista /Artist's Books".

6 October – 5 November 1981. Barcelona: Metronom, 1981. 199 pp. Wrps. In shipping box from Spain. Includes work by SH. bk, ex




Metronom – "Exposicio de Tramesa Postal / Mail Art Exhibition".

13 October - 21 November 1980. Barcelona: Metronom, 1980. Wrps. Unpaginated. Includes: 2 posters and 2 postcards for the show. Mailed from Spain. Includes work by SH. bk, ex



back to key
---
Box 35
Folder Numbers 412-414
Le Sphinx; Anatolie au Cafe de l'aube; Le Point D'Ironie; and Jacques Juin. (Producers). Internat... Fool! Mail Art Show. N.l.; n.p., no date. (booklet). Includes insert flyer advertising show. Germany, in 7x9 envelope. New-Art 1980-1990. Mail art show, with inserts, including: 1) List of participants for "New-Art 1980-1990. Mail Art"; 2) Folded poster for "New-Art 1980-1990. Mail Art. Exposition. And 3) Papers stamped with show's name. In 6x8 envelope. 6/16/1981 postmark from France. Bennett, John M. /Luna Bisonte Prods. (six items). 1) "Lost and Found Times (The Sleep). No. 10, August 1981." 2) Luna Bisonte Prods Catalogue Notes 8, 1982. 3-6) 4 clippings from No. 10 "The Sleep". In 6x8 envelope. Includes work by and listings of SH. mixed



Schmidt-Olsen, Carsten; et al. (Committee). Hjorring Annual Film Festival 1982. n.l.: Lomholt Formular Press, 1982. ISBN: 87-981062-0-1. Schmidt-Olsen/Kunst og Kuns. In 9x12 envelope from Denmark. Enlightenment and Depravity in Urban Life. April 13-3, 1982. University of Illinois. International Mail Art Show Exhibit Catalog. Steve Balkin, Curator "The Show Will Go On..." and Buzz Spector "A Forewording Address: Essay on Mail Art" (stapled photocopy). In 9x12 envelope, Fine Arts Program, Chicago. No postmark date. Concrete & Visual Poetry. Paper Architecture. Minneapolis, MN. No date. (4 copies of a flyer). In 9x12 grey envelope ("paper architecture" written on face). Walker Art Center. March 1982. Newsletter. Minneapolis, MN. Walker Art Center. June 1977. Newsletter. Minneapolis, MN (2 copies).

Shi Shi

. 1981; No. 2. In 8x10 envelope. ShiShi Group. 5/21/1981 postmark from Japan.

Shi Shi

. 1981; No. 3. In 8x10 envelope. ShiShi Group. 9/30/1981 postmark from Japan. Includes work by and listings of SH. mixed




MC: 1

"The responsibility of the artist in contemporary society" (8x11 flyer). In file folder holding loose-leaf materials of Walker Art Center shows, newspaper clippings, miscellaneous flyers of shows which featured Scott Helmes in Minneapolis ca. 1982. mg, ex, pr



back to key
---
Box 36
Folder Numbers 415-421
Cole, David & Susan Share.

Book Gatherings

. First Book Gathering Book. N.l.: A Book Gatherings Production, 1981. Edition of 350. Stapled photocopy (2 copies). "64 Hexagrams of the I Ching" signed by David (2 copies) with note to Scott. "Book as Theatre" show flyer. In 10x12 envelope. No postmark.

Impossibilists

. #17. Spring 1982. In 10x12 envelope. Musical Comedy Editions (Musicmaster). 5/29/1982 postmark. (3 copies). Includes work by SH. mixed




Kaldron

. #11. Summer 1980. (2 copies).

Kaldron

. #14. Spring 1981. (2 copies).


Kaldron

. #6. Summer 1978. (3 copies).

Invisible City

. Numbers 26-27. August 1980. (2 copies). All include work by SH. mg




Ear Magazine

. (3 issues) Vol. 3, No. 3 April 1977; Vol. 4, No. 2, March 1978; Vol. 4, No. 4, May, 1978.

Milkweed Chronicle

. Vol. 3, No. 2. Spring/Summer 1982.
NRG. #6. All include work by SH. mg



Van Barneveld, Aart (Editor). Six Mail Art Projects. (Leonhard F. Duch) Amsterdam: Stempelplaats, no date. 500 copies. And: Duch, L.F. "I am an artist. Unemployed." Recife, Brasil. In 9x12 envelope from Brazil. 2/12/1981 postmark. Colectivo-3. Poema Colectivo Tema: Rev-O-Lucion. 1982. (poster and list of participants). In 7x11 envelope from Mexico.

Tam Tam

. No. 25. "rivista internazional di poesia apoesia e poesia totale. 1981. Italy. 8x11 envelope. 1/30/1981 postmark. Carolina, Anna; et al. Mail art exhibit. Three items: postcard note to Scott from Anna; list of participants; newspaper copy of show. In 8x11 envelope. 6/15/1981 postmark, from Rio de Janeiro, Brazil. Mamablanca. Exhibit. Argentina. 2 inserts: Single sheet, two sided photocopy (49 of 200). And poster: Mamablanca's Treasure. 2 sided poster. List of participants. In 9x12 envelope postmarked May 31, 1982 from Argentina. Includes work by or listings of SH. mixed



First International Art-Door Exhibition. Recife 1981. Recife, Brazil: Cunha Lima e Associados, 1981, 93 pp. Brazil. In 10x12 envelope. 7/4/1981 postmark from Brazil. SH listed as a participant. bk



Bleus, Guy (Editor).

"Are You Experienced? L.H.F.S."

(booklet with list of participants; pockets on end boards hold microfiche of show's art). And: "Are You Experienced" 1981 show poster. From Belgium. 9x12 envelope. Includes work by SH. ex




Sphinx

. Nos. 12/13. Summer 1981. Germany. In 10x12 envelope from Germany. Includes work by SH. mg



back to key
---
Box 37
Folder Numbers 422-426
NRG

. #15 In 10x13 envelope, postmarked 1/22/1981. (3 copies). Frangione, Nicola. "Poesie visive ..... ecc." Armadio Officina n. 5. 1981. No. 111 of 300 copies. Signed. Poster: International Mail Art Exhibition "House of Artist" August 1981. And 3 miscellaneous cards/flyers. From Nicola Frangione in Italy. 10x12 envelope. 9/4/1982 postmark. Includes work by or listings of SH. mixed



A White Sheet of Paper. Internationaal mail-art prjoect van pier van dijk. Zwolle, Netherlands (poster). In 9x12 envelope. 3/25/1982 postmark. From the Netherlands.
Transplanted. (Four posters of show featuring Scott Helmes). One poster Xerographien-Plastiken-Projekte" at Galerie Velke. One note to Scott. From Kassel, Germany, in 9x12 envelope. 3/19/1981 postmark. ex, cr




Aerosol

. No. 18. January 1982. Belgium.

Commonpress

#31 "Meetings" 78 works by 80 artists from 20 countries. Edited by pier van dijk and robert joseph. Henglo, Holland: n.p., 1981. Plastic comb bound. Un-paginated. In 9x14 envelope, 6/15/81 postmark, Netherlands. pier van dijk/robert joseph. 'Handshakes V' 1981. 4-page flyer. Netherlands. In above 9x14 envelope. 6/15/1981 postmark. Includes work by or listings of SH. mixed



Klinkowstein, Tom. Exhibit. Poster for show. In 10x12 envelope from Warsaw, Poland.

Anatolie Au Cafe De L'Aube

. Nos. 13/14. no date. Belgium. 10x12 envelope. ex, mg



Mail Art Exhibition. October 1981. Poster listing participants. In 6x14 folded envelope. Rosamilia/Cavelini. 7/3/1981 postmark from Italy. Three pieces of original photocopy art stamped by Nicola Frangione. One poster for International Mail Art Exhibition "arte marginale e socialita" 1980. From Italy, in 10x14 envelope with 8/18/1980 postmark. Sztuka Jako Revolta Kulturowa/Art As Revolt of Culture – Gallery Maqximal Art (poster). And: Bulletin Maximal Art. (Poznan, Poland) September 1980. In 12x14 envelope from Poland. Fantastic Art (show) poster. 1980/1982. In 12x14 envelope, sent by Rosamilia, from Italy. Includes work by or listings of SH. mixed



back to key
---
Box 38
Folder Numbers 427-432
Helmes, Scott. (89 original works). Visual poems. About half are signed; about 10% are dated. Ca. 1977 & 1978. Most are done on typewriter paper. One is on cardstock. ms



Box 38 Helmes, Scott. (26 copy ready originals, visual poetry, to: Autistext: Poetry before I learned to read). Also includes title page artwork. ms



Helmes, Scott. Zoom Poems: Adventures Among the Hyperchips. Originals. Edition of 20. July 1992. Visual poetry. Spiral-bound, laminated covers bk



Miscellaneous ephemera. About 20 paper ephemera items (small notes, rejection slips, mail art, notes to Scott). All loose. pr, cr




Konglomerati

. Vol. 5, no. 4; 1979 (2 copies). Includes work by SH. mg



Correspondence. 39 5 1/2x8 1/2 foreign-origin envelopes, postcards and ephemera. Ca. 1978-1985. Wide assortment of personal letters, mail art communications, journal communications, advertisements of shows, booklets, etc. Includes material from B.C. Keech, Other Books and So, A. de Araujo, John Furnival, Mohammed, Vittore Baroni, Soft Art Press, Leonhard F. Duch, Pawel Petasz, Lomholt Formular Press, Stempelplaats, Jurgen O. Olbrich, and others. cr



back to key
---
Box 39
Folder Numbers 433-434
Correspondence. 69 5 1/2x8 1/2 domestic-origin envelopes, postcards, notes and ephemera. Ca. 1978-1985. Wide assortment of personal letters, mail art communications, journal communications, advertisements of shows, etc. Includes material from Scarlatina Lust, K. S. Ernst, Bill Ray, B.C. Keech, Xexoxial Endarchy, E. & M. Robson, Bob Heman, Karl Kempton, Erica Jong, Dan [Raphael], David Cole, and others. cr



Kostelanetz, Richard (Editor). Scenarios: Scripts to Perform. New York: Assembling Press, 1980. 704 pp. wrps. Kostelanetz, Richard (Editor). Text—Sound Texts. New York: William Morrow and Company, 1980. 441 pp. wrps. Both includes work by SH. bk



back to key
---
Box 40
Folder Number 434a
Correspondence. 95 foreign-origin envelopes, letters, correspondences. Ca. late 1970s through early 1990s. Correspondence. 95 domestic-origin envelopes, letters, correspondences. Ca. late 1970s through early 1990s. Correspondence. 57 foreign-origin postcards. Ca. 1980s. Correspondence. 17 domestic (4x6) envelopes, letters, correspondences. Ca. 1980s. Wide assortment of personal letters, mail art, and journal communications. Includes material from Leonhard F. Duch, Pawel Petasz, Betty Danon, Tom Winter, Ryosuke Cohen, Guy Schraenen, Giovanni Strada, Cesar Espinosa, Vittore Baroni, A. de Araujo, Falves Silva, Robin Crozier, Mohammed, Paula Clair, Paulo Bruscky, Arturo Fallico, Serse Luigetti, Salvatore de Rosa, Jurgen O. Olbrich, Guy Bleus, Mike Duquette, Marvin Sackner, Steven S'Soreff (AGAR), David Cole, Paul Zelevansky, Tom Cassidy (Musicmaster), Cracker Jack Kid, Marilyn R. Rosenberg, K. S. Ernst, Lon Spiegelman, Loris Essary, Scarlatina Lust, Konglomerati, Xerox Sutra, Crag Hill, David Miller, Karl Kempton, Ulises Carrion, Madam X, Ken Saville, Joel Lipman, Sue Fishbein, and others. cr



back to key
---
Box 41
Folder Numbers 435-435b
Correspondences & Miscellanea. 185 (+-) loose 8x11 sheets or stapled sheets. Ca. 1978-1983 (one from 1997, several from 1990). Containing a very wide assortment of items: personal letters, mail art flyer-letters (photocopies or originals), correspondence with journals, flyers advertising events, etc. Includes material from Karl [Kempton] (extensive correspondence), John Furnival, Crag Hill, Marvin Sackner, AGAR, Loris Essary, Klaus Groh, David Cole, Miekal And, Serse Luigetti, David Miller, Richard Kostelanetz, Tom Hamill, Buzz Spector, Fred Truck, C. W. Truesdale, K. S. Ernst, Dan [Raphael], Tom [Person], Harley Lond, Bob Heman, Ernest Robson, Charlton Burch, Lon Spiegelman, Tommy Mew, Ken Saville, Keith Rahmmings, Richard Mathews, Artaud's Elbow, Cabaret Voltaire [Steve Hitchcock], Robin Crozier, and many others. cr



Correspondence. 91 (4x6) foreign-origin envelopes. Ca. 1978-1985. Wide assortment of personal letters, mail art communications. Includes material from Leonhard F. Duch, A. de Araujo, Pawel Petasz (includes a booklet), Niels Lomholt, Paula Claire, Della Reilly, M. L. Vachey, Vittore Baroni, Pete Spence, Robin Crozier, Salvatore de Rosa, Birger Jesch, Jurgen O. Olbrich, and others. cr



Correspondence. 152 domestic postcards. Ca. 1978-1985. Wide assortment of personal, mail art and show announcement post cards. Includes material from Richard Kostelanetz, Ken Brown, David Feldman, Lon Spiegelman, Loris Essary, J. P. Jacob, Inex, Keith [Rahmmings], Tommy Mew, Robert Ashworth, David Cole, K. S. Ernst, Dan [Raphael], St. Scarlatina [Scarlatina Lust], Steven Durland, Gene Elder, Carolyn Drake, Richard C., Miekal And, Karl Kempton, Buzz Spector, W. Kurahara, Arturo G. Fallico, Crag Hill, Bill Ray, Dogfish, Sue Fishbein, John Held, Jr., Bradley Lastname, Paul Zelevansy, and others. cr



back to key
---
Box 42
Folder Numbers 436-438
Helmes, Scott. (original art, one item, taped down and covered with tissue wrap on heavy cardboard). Visual poem. ms



Correspondence. 19 (9x12) domestic-origin envelopes, postcards and loose-leaf letters. Ca. 1978-1985. Wide assortment of personal letters, mail art communications, journals, communications, advertisements of shows, etc. Includes material from Bill Ray, David Cole, Arturo G. Fallico, Lightworks, Lon Spiegelman, Tommy Mew, B. C. Keech, Crag Hill, Bill Di Michele, Score, Miekal And, Mike Duquette, Joel Lipman, and others. cr



Correspondence. 12 (9x12) foreign-origin envelopes. Ca. 1978-1985. Wide assortment of personal letters, mail art communications, journals, advertisements of shows, etc. Includes material from Falves Silva, Robin Crozier (includes copy of "Nonbook" by SH, Crozier, and Jan Ostrowski; and an "autobiography" – a booklet – by Crozier), Sveriges Television, Pier van Dijk, A. de Araujo, Stempelplaats, Shishi, and others. cr



back to key
---
Box 43
Folder Numbers 439-444
Cafe Solo

. Series 2, numbers 1 & 2. Spring & Summer 1978. Luschei, Glenna (Editor). San Luis Obispo, CA: The Solo Press/Glenna Luschei, 1978. Includes a large section of visual poetry by Karl Kempton. mg



Correspondence. 16 larger size domestic envelopes. Ca. 1979-1996. Includes material from Tommy Mew, David Cole, Bob Heman, Marilyn R. Rosenberg, and others. cr



Correspondence. 18 larger size foreign envelopes. Ca. 1980-1999. Includes material from Birger Jesch, Graciela Gutierrez Marx, Vittore Baroni, Ulises Carrion, Klaus Groh, Yves Perrine, and others. Includes a catalog, 1979, "Oggi Poesia Domani" with visual poetry by SH and others. cr



Correspondence. 25 + loose-leaf paper ephemera and letters. 1st page is letter to Scott from University of Minnesota dated 3/12/1981. Includes material from David Miller, Richard Kostelanetz, Musicmaster, David Cole, Loris Essary, John M. Bennett, Ruth Sackner, G. Galantai, and others. cr



Helmes, Scott. (approximately 100 original poems). No title. 1st poem: 'by the hour'. This collection is about 1 inch thick. Includes a few journal return notices. Most poems appear to be 1976-1979; no visual poems; one return notice was dated 1989. Signed ts, some with holog. edits. ms




Cabvolt

. #4 (no date). #5 (Fall of 1978).

Echoing Sentiments

. Volume 3 (no date).

Fat Free

. Issues for May, June, July & September of 1992.

In The Mail

. Issues for March, April and May of 1992. Both issues of Cabvolt include work by SH. mg



back to key
---
Box 44
Folder Numbers 445-447
Correspondence. 34 (4x6) size envelopes foreign. 1981-1999. Includes material from Grupo Texto Poetico, Leonhard F. Duch, Betty Danon (several letters), Neils Lomholt, Colectivo 3, Isabelle Marie, Serse Luigetti, Della [Reilly], Walter Gaspari, Robin Crozier (Artestudio), Graphitismes, Julien Blaine, Vittore Baroni, and others. cr



Kostelanetz, Richard (Editor). Scenarios: Scripts To Perform. Brooklyn, NY: Assembling Press, 1980. 704 pp. Wrps. Includes work by SH. bk



Correspondence. 52 postcards (mixed foreign and domestic) and 4 letters (domestic). Includes material from B. C. Keech, Leonhard F. Duch, A. de Araujo, Pere Sousa, Serse Luigetti, Grupo Texto Poetico, Hanjorg Mayer, Bill Ray, Richard Kostelanetz, Emmett Walsh, Scarlatina Lust, W. Kurahara, John M. Bennett, Joel Lipman, Bob Grumman, and others. cr



back to key
---
Box 45
Folder Numbers 448-451
Helmes, Scott. (approximately 50 original poems/works of art). Orange folder titled "Xerox Poems" 1st poem: 'An epistle on the meaning of meaning and the order of order in duplicating machines' Signed and dated 8/7/1979. Folder consists of poems or visual poems created in various ways using a photocopy machine. ms




What is Stamp Art Now

. 1982 exhibit at Stempelplaats, Amsterdam. 2 posters in envelope. ex



Urbons, K. et al. (artists) 81 34. [Cardboard file box]. "This box is a documentation of the activities at Kunoldstr. 34 in 1981. The box contains works of the involved artists, books, broadsides, cards, media, invitation-cards, posters, all-day-material etc." Kassel, Germany: [the artists], 1981. Includes an original drawing by SH. ms



Correspondence. 29 domestic letters (ca. 1981-1992). 33 foreign letters (ca. 1982-1996). Includes material from Richard Kostelanetz, Stampland, Lyn Hejinian, John M. Bennett, AGAR, Bill Gaglione, R. Saunders, Crackerjack Kid, Robert Ashworth, Sue Fishbein, David Cole, Scarlatina Lust, Robot Vegetable, Artpool (G. Galantai), Betty Danon, Giovanni StraDADA, Ryosuke Cohen, Leonhard F. Duch, Ulises Carrion, Guy Schraenen, Jane Lomholt, Neils Lomholt, and others. cr



back to key
---
Box 46
Folder Numbers 452-456
Lo Straneiro

. 1993. No. 15. Artistic Embargo Stamps. International Mail Art Exhibition. Beograd 1994. Poster and inserts in envelope from Yugoslavia. From Bookworks to Mailworks. Ulises Carrion, curator. In envelope from Netherlands. Includes notecard to Scott from Ulises. Picasso Gaglione. Tampon Trouve. The Found Stamp. Poster. 1995. Edition Hansjorg Mayer. Catalogue 1982. In envelope from Germany. 100 anos Miro. III Muestra Internacional de Mail Art. Ciudad de Alcorcon. Invitation and card to event. 1993. In envelope from Spain. Fractarte 98. Mexico. Poster. mixed



Correspondence. 22 foreign (4x6) size envelopes. Ca. 1990s. Correspondence. 10 foreign postcards. Ca. 1980s and 1990s. Includes material from Paula Claire, Artpool (G. Galantai), Georgina Margareta Witta, Pere Sousa, Cesar Reglero Campos, Vittore Baroni, Betty Danon, and others. cr



Correspondence. 6 foreign (6x8) envelopes. Druck & Buch, Katalog No. 2; Da Costa Editions Amsterdam 1985. (book catalog). Including inserts. In envelope from Germany. O. Numero 48. Avril 1993. In envelope from Japan. Includes material from Della Reilly, Michel Hosszu, Ed Varney, and others. cr, bc, mg



Correspondence. 57 foreign envelopes. Ca. 1980s and 1990s. Includes material from Jas W. Felter, Giovanni StraDADA, G. Galantai (Artpool), Cesar Espinosa, Mike Duquette, Bob Cobbing, Vittore Baroni, Pedro Garcia, Aaron Flores, Barry Pilcher, Betty Danon, Ryosuke Cohen, Banco de Ideas, and others. cr



Helmes, Scott. Resume. 4 pages, April 2007. ts




Architecture Minnesota

. Sept.-Oct. 2002. Features article on page 40 "Council Keep" regarding Skaaden-Helmes Architects renovation of the Minneapolis City Council Chamber.

Dreamtime Talkingmail

. Issues 4, 5 and 6. 1993 through 1994. Kaldewey Press, New York. Catalog. Ca. 1984. O. Numero 46. Aout 1992. Visual Studies Workshop Press. 1986. Catalog. Printed Matter Catalog. 1995. Ex Libris 18. Auction Catalog with price list. Visual poetry and related material. No date. Aspidistra Bookshop Catalogue 4. No date. Private Showing. Dr. Sarah Boo. Nov. 5, 1994 (invitation). Fallen, Anne-Catherine (curator). In Context. Contemporary Artists' Books and Their Antecedents. March 14 – April 27, 1986. Exhibition catalog. Artists' Books from Delacroix to Dine. The Minneapolis Institute of Arts. 27 Sept. – 30 Nov. 1986. Exhibition catalog. mixed



back to key
---
Box 47
Folder Numbers 457-461
Very small ephemera. Loose. 8 pieces (business cards, etc.). Small ephemera. Loose. 13+ pieces (4x6 size range). Paradise Press. Catalog. Xerox Sutra Editions. Catalog, 1984-85.

The Amersand

. Vol. 6, no. 3, Summer 1986. Artists' Books. Permanent Collection. Museum of Contemporary Art, Chicago, 1985. The Something Else Press. Catalog. 1979. Concrete Poetry: The Early Years. Metropolitan Museum of Art, July 1 – Sept. 29, 1986. The Iowa Center for the Book. Photocopy article from American Craft. June/July 1987. The Stampa Barbara Fun Report. Catalog. Spring/Summer 1993.

Dreamtime Village

. Summer 1991. Contemporary Book arts at Carleton. April 2 – May 10, 1987. Northfield, MN. Exhibition catalog. Artworks/Bookworks. Dallas Public Library. Aug. 12 – Oct 12, 1985. Exhibition catalog. Zelevansky, Paul. The Case for the Burial of Ancestors. (includes article by Richard Kostelanetz). Pamphlet. 1991. Kostelanetz, Richard. Year-End Report, 1993.
Kostelanetz, Richard. Year-End Report, 1997. Ephemera. 10 sheets of various communications and announcements. Correspondence. 12 letters to Scott from various compatriots like Bennett, Sackner, etc. No envelopes, just the letters. Includes material from David Cole, Bill Gaglione, Marilyn R. Rosenberg, Xerox Sutra Editions, Paul Zelevansky, Richard Kostelanetz, Karl Kempton, John M. Bennett, Marvin Sackner, Betty [Danon], and others. mixed



Helmes, Scott. Original works of art and poetry. In black hardbound blank book. Title page states: Graphics '71. Insert states: "These are some of the original mathematical poems." (9x12). 105 pages containing art and poetry. Notes, visual and textual poems, and drawings. ms



Helmes, Scott. Original works of art and poetry. In black hardbound blank book. Title page states: Jan 27, 1977. (9x12). 52 pages containing art and poetry. Notes, visual and textual poems, and drawings. ms



Correspondence. 33 domestic postcards. Correspondence. 8 domestic letters (4x6). Correspondence. 6 domestic postcards (4x6 size).

In The Mail

. January 1992.

The Iconoclast

. No. 41, no date. Jordan Davies Books. Catalogue 39. No date.
Nexus Press. New titles for 1994. Luna Bisonte Products. Catalog ca. 1990. Northwest Artists' Books. June 6 – July 8, 1986. Exhibition catalog. Includes material from Ruth & Marvin Sackner, Paul Zelevansky, I. Ralph, Chuck Welch, Marilyn R. Rosenberg, Bill Gaglione, Jurgen O. Olbrich, Bill Ray, M. B. Corbett, John M. Bennett, and others. mixed



Correspondence. 41 domestic letters. Ca. 1979-1999. Includes material from Bill Gaglione, AGAR, Crag Hill, Marilyn R. Rosenberg, Joel Lipman, Richard Kostelanetz, John M. Bennett, Fredrik Hausmann, David Cole, Karl Young, and others. cr



back to key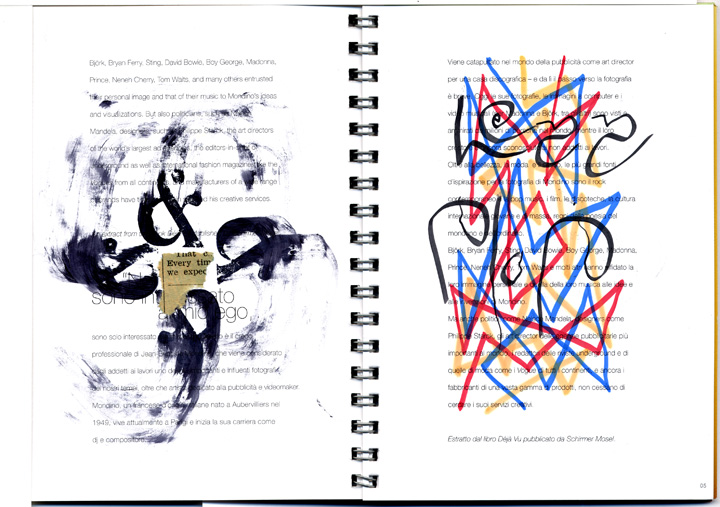 ---
Box 48
Folder Numbers 462-466
Cole, David. Original piece of art and letter. In 7x10 envelope dated 1993. Bennett, John M. Flyer for "Mailer Leaves Ham". In envelope dated 1999. Bookspace. Catalog and note to Scott. In 10x10 envelope dated 1981. Victoria Miro Gallery/Wild Hawthorn Press. Catalog and letter to Scott. From London in 10x14 envelope. mixed



Helmes, Scott. Cover note to final shipped box. Dated 2003.

In the Mail

. (Feb.) No date. In the Mail. Jan 1988. Xeroxial Endarchy. Catalog 1990-91. The Fifth Annual Intergalactic Festival of the Swamps, 1990. Both in large envelope.

Dreamtime Talkingmail

. No. 2. Spring 1992. In envelope. 11x30. Poster by Toledo Poets Center. Vol. 3. No. 2. 11x30. Poster by Toledo Poets Center.

The New York Flue

. Vol. 5, No. 1, Fall 1987. Johnson, Chester J. The Selected Poetry of ... Winter 1995, Julliet Press.
Twin Cities Regional Rubber Stamp Collective. (poster). Innaugural Meeting. Ca. 1984. In mail art envelope. Am Here Books. Antiwar flyers related to the First Gulf War. In envelope dated 1991. Bienal Internacional de Artes. (poster and 9 folded cards of individual contributors promoting the event). In 10x13 envelope. (with Miami, FL postmark dated Aug 30, 1989).

Postextual

. No. 4. March 1990. III International Biennial of Visual, Experimental and Alternative Poetry. July 5 – 14, 1990. Other ephemera includes: poster, items related to #IV, etc. In large envelope from Mexico.
Johnson, Ray & Galantai – Artpool. Miscellaneous sheets and correspondence in large envelope from Hungary. Ca. late 1980s. mixed



Blaine, Julien. Original poem mailed to Scott with letter. In large envelope from France, dated 1994.

Miscellanea

. Originals(?) and photocopy works related to a project Scott was working on which included Julien Blaine's above submission. Includes 4 large empty envelopes. Includes submissions by Steve McCaffery (in separate file folder). Includes submissions by various poets (in separate file folder). Includes submissions by Dick Higgins (in separate file folder). Includes submission by Marilyn Rosenberg "Omelete" (in separate file folder). Includes material by the above and Betty Danon, Fanny Howe, d. a. levy, Collette Inez, Annie Menenbroker, and others. ms



Correspondence. 27 domestic letters. Ca. 1980s and 1990s. Correspondence. 27 domestic postcards. Ca. 1980s and 1990s. Includes material from John M. Bennett, Musicmaster, Ernest Robson, Betty Danon, Xexoxial Endarchy, Sue Fishbein, AGAR, Marvin Sackner, Harley, Marilyn R. Rosenberg, Scarlatina Lust, Joel Lipman, Les Cammer, Richard Kostelanetz, Dogfish, Crag Hill, Miekal And, Karl [Kempton], John Byrum, Bill Shields, David Cole, Jurgen O. Olbrich, R. Saunders, and others. cr



Correspondence. 6 foreign postcards. Ca. 1980s and 1990s. Correspondence. 47 letters and communications foreign. Ca. 1980s and 1990s. Includes material from Serse Luigetti, Hansjorg Mayer, Della Reilly, Betty Danon, Ryosuke Cohen, Vittore Baroni, Giovanni StraDADA, G. Galantai, Graf Haufen, Gerhard Tanzer, Artestudio, Arnaldo Esposto, Mike Duquette, and others. cr



back to key
---
Box 49
Folder Numbers 467-472
Miscellaneous. 15 loose-leaf items, ca. 1980s. Flyers, announcements, etc. pr



Correspondence. Approximately 50 loose-leaf letters (no envelopes, some multipaged), ca. 1980s through 1990(?). Includes works by Scott Helmes being returned to him from publishers. Flyers, announcements, etc. Includes material from Dan [Raphael], Karl Kempton, Musicmaster, Bill Shields, Skooter, Richard Olson, Crag [Hill], Phil [Gallo], Ruth Sackner, Theo Green, Buzz Spector, Paula Claire, Harry Polkinhorn, Richard Kostelanetz, Martha Wilson, Mark Melnicove, and others. cr, ms



Helmes, Scott. 100+ original and pc poems. Rubber-stamped, press type, ink, etc. Includes a photocopy of "Szombathy balint a konkret kolteszet utjai III." ms, pr



Helmes, Scott. Poems for 1978 "Assembling" including correspondence/copy ready text. ms



Helmes, Scott. Autistext: Poetry before I learned to read. A Xerox book: 20 copies signed and numbered. January, 1987. 1 of 20. Included in file folder are 100+ original or photocopied visual poems and notes by SH, some of which may not have been included in "Autistext". Rubber-stamped, inked, typed, collaged, etc. ms



Helmes, Scott. <span class="emph2">Nonadditive postulations & other/poems</span>. Galley proofs with edit marks for the Hermetic Press and Philip Gallo, Minneapolis, MN; includes blue colored 3.5 diskette. Mathematical poems. ms



back to key
---
Box 50
Folder Numbers 473
Berger, M.; Olbrich, J.O. (Coordinators).

"1 … 2 … 3 dimensions"

A mail-art project for the 3rd dimension. Wiesbaden, Germany: Halekin Art, 1990. [Black Box (8x8x8) containing: 202 8x8 cards of participating artists/author names; internal box titled "Image Material" which contains program booklet, key to 8x8 card codes, 202 photos of each boxed work of art linked to numbered cards; tube of glue, & toy dog bone.] Includes work by SH. [Note: black box holding contents no longer present.] bk



back to key
---
Box 51
Folder Numbers 474-475
Helmes, Scott. 128 original visual poems. Most are on 8x11 sheets, single sided; some are on other types of card stock or smaller sheets of paper. Perhaps half are signed. Most common date is 1977. Rubber-stamped, inked, collaged, etc. ms



Helmes, Scott. Collection of 44 original visual poems and material for a publication (title unclear) with notes that a press run of 50 copies occurred. Includes a typed draft introduction by Scott explaining how he became engaged in these forms of poetry and two pages of planning documents for the publication. Includes 3.5 diskette marked: "Mac. Scott Helmes Math Quark 4.0 File plus Veljovic & Univers Math PI." Original poems are on 8x11 sheets, single sided; some are on other types of card stock or smaller sheets of paper. A few may be duplicates (camera-ready shots for the publication). More than half are signed. Most common date is 1977. Rubber-stamped, collaged, ink, etc. ms



back to key
---
Box 52 (oversize)
Folder Numbers 476-478
(over-sized) - Helmes, Scott. Note to John Bennett in oversize package shipped June 23, 2003. cr



(over-sized) -

Cafe Solo

. Series 2, numbers 3 & 4. Spring & Summer 1979. Horton, Glenna Luschei (Publisher). San Luis Obispo, CA: The Solo Press/Glenna Luschei, 1979. (2 copies). Includes work by SH. cr



(over-sized) - Helmes, Scott; Kempton, Karl; Finlay, Ian Hamilton; Gallo, Philip; Williams, Jonathan. 5 Visual Poems. N.l.; Philip Gallo at the Hermetic Press, 1986. [5 individually printed poems on different types of paper stock; inserted in large 11x17 envelope of handmade (?) paper] (sealed between used presentation boards). cr



back to key
---
Box 53
Folder Numbers 479
Tube - Helmes, Scott and John M. Bennett. [visual/concrete poetry banner mounted on large wall hung vinyl sheet]. Signed and dated 2002. Includes donation letter and list of exhibits at which banner was hung. ms



back to key
---